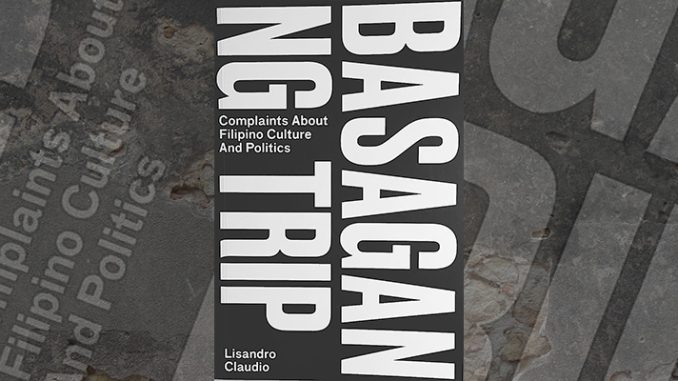 Basagan ng Trip: Complaints About Philippine Culture and Politics
Lisandro E. Claudio
Mandaluyong City: Anvil Publishing, 2016
 Dissecting the mixed vibes
As a "modern critic," Claudio's essays show a blend of "high and low, serious and frivolous" (p. xi). "The humility of the archive" is a reflection on the value of the dusty old papers and presents an objection against biases in historical research. "Ninoy networked with everyone, reds included" contains substantive interviews with the former chairperson of the Communist Party of the Philippines (CPP) and former New People's Army (NPA) Commander-in-Chief, Rodolfo Salas, a former CPP politburo member, and Jose Maria Sison, among other credible sources of information. Claudio argues that Senator Benigno "Ninoy" Aquino Jr. worked with the "organized Left even after the collapse of the Huk rebellion and the emergence of the young Turks who founded the CPP in 1968" to exploit all avenues against the Marcos dictatorship (p. 37). He distills EDSA's relevance and its myth in one section.
Claudio surprises with slice-of-life commentaries such as "A tribute to the mothers of the RH struggle" and gives a reportage of history as it happens. His acerbic contra-positions against the religious conservatives' monopoly of moral standards range from calling them out on imposing what "national culture" and artistic standards should be to the rigidity of the Church hierarchy and the fact that this prevents people from learning history's lessons (p. 94).
Claudio extends his proficiency in history and political science to everyday realities. "He's not a genius, but give Ricky Lo a break" employs the sociological concept of cultural capital to locate Anne Hathaway's rudeness to Lo but accommodating disposition towards NBC's Matt Lauer. He identifies the reason for Lo's squeamishness in the face of seeking validation from someone white and world-famous in the broadcasted interview that generated a lot of buzz.
However, Claudio's statements are sometimes at odds with each other. In "Why the media should be biased," he notes that President Benigno Aquino III (PNoy) is the "most progressive post-EDSA president" and he "is happy to admit" this bias (p. 110). In "Refragmenting EDSA: Supplications and insults for the nationalist baby boomer" he describes PNoy as a "spoiled yet moralizing fratboy son of a former president" and casts a sour assessment on his capability as a politician: "But he (PNoy) represents the fecklessness of formally stable but aimless state politics" (p. 121).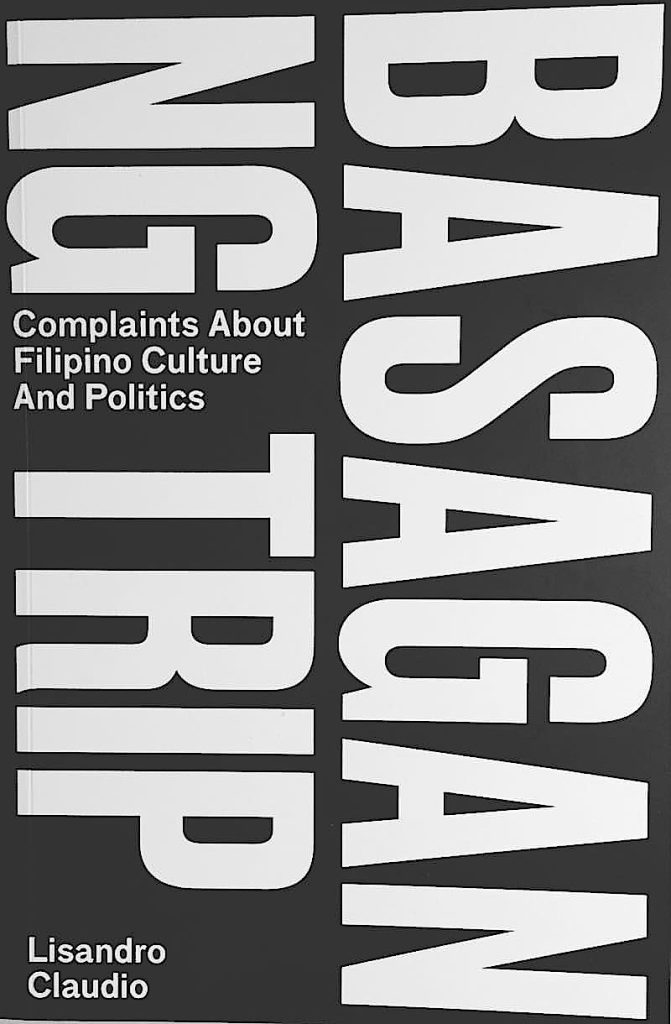 It is unfortunate that Claudio's oversimplification glosses over essential details. In "Dear Graduates, the real world is fake," he cautions, "…we should not conflate the choice of a moneymaking lifestyle with reality. For a lifestyle choice is precisely that: a choice, an option within an array of plural realities, each one of them wellsprings of lived complexity" (p. 5). It is challenging to think of a moneymaking lifestyle that is bifurcated from reality. The actuality of a consumer society not only categorizes and differentiates classes but also shifts the nature of the construction of social identity (Baudrillard, 1988).
Claudio attempts to reconstruct Emman Lacaba's "dual identity" as an activist and and artist: "To grasp this binary, ask a simple question like: where would Eman Lacaba have hung out in today's Manila?" as if both aspects of Lacaba were static throughout his life. He utilizes Lacaba's imaginary to establish affinity with the 'hipster.' Conversely, it is also possible to acknowledge progressions as Garcellano (1987, p. 74) did in "Problematics of a Salvaged Text" so as not to pass over Emman's radicalization – "…his (Lacaba's) life has achieved a finality that would not countenance a formalistic suspension of judgment, a paradigm of ambiguity that elliptically would negate his distinct choices. This praxis is a dialectical rupture from petitbourgeois ethos…moreover, his eventual end as a Marxist, or more or less as subscriber to Marxist articulation, is the stuff of legend…."
"OPM is dead, so sue me" seems to isolate Filipino music production from global trends. Claudio recognizes the lack of government support for musical artists and the unwillingness of old hands to discuss "structural issues that impinge on the arts" (p. 67) as deathblows to OPM. However, there is no acknowledgment of the standardization of local and popular culture and the "dumbing down" of traditional forms (Jameson 2009: 458). Because "standardization of culture" was amiss, the author characterizes the OPM of today as "derivative fauxnova or pogi (handsome) rock" (p.67) as if these compositions were thought of by the musicians devoid of any external influence. In Criticism and Ideology, Eagleton reminds us that "every text in some sense internalizes its social relations of production – that every text intimates by its very conventions the way it is consumed, encodes itself within itself its own ideology of how, by whom, and for whom it was produced."
The parallelism between Communism and fundamentalism in religion, for him, is best explained in Richard Crossman's The God that Failed (p. 50). It can be deduced that both require absolute commitment with authoritarianism at the core. The correlation between communism and fascism on the other hand is extrapolated from the Philippine Left's history. According to the author, in 1992, CPP Chairman Jose Maria Sison issued a document forcing cadres to reaffirm basic Party principles or resign. At this point, "…CPP had not only lost the post-authoritarian struggle for power, it had also devoured hundreds of its own in a series of internal purges aimed to rid Party ranks of Deep Penetration Agents (DPAs)" (p. 49). Throughout, mentions of the CPP warrant equations to violence and authoritarianism: "I was too tired to tell him about the Communist Party's violent internal purges." Or "I was too tired to tell him how the Communist murder peasant members of my own social democratic party" (p. 137).
Although Claudio claims as a "specialist of the Philippine Left" (p. 137), he stays trapped in his myopic vision of the CPP during the late 80s and 90s and with little or no acknowledgement of the processes that came after. He relegates the "CPP and its affiliate organizations to relative obscurity" after the Marcos dictatorship (p. 47) but contradicts this when he recognizes that "The country, afterall has the longest standing Maoist insurrection in the world…" (p. 136). He implies the discontinued participation of the youth in waging the revolution, "…we are no longer used to the best and brightest youths becoming revolutionaries" (p. 20), and stereotypes guerrilla fighters as "a ragtag group of aging peasants hiding amid sugar cane in an ever-shrinking countryside…" (p. 136).
The information presented by Claudio has grains of truth. There was an internal purge within the Party but following that, there was a Rectification Movement. There was a relative weakening of the CPP and its affiliate organizations after EDSA but today, it is impossible not to acknowledge their influence in the political milieu. It is true that Maita Gomez, Nelia Sancho, and Horacio Morales are remarkable members of the "new Philippine Revolution" (p. 20). It is also undeniable that outstanding young people generations after them like Recca Noelle Monte and Wendell Gumban, who remain nameless until death resurfaces them as genuine heroes and heroines, have never shunned revolutionary ideals.
The proclivity towards blurring lines between Communism and totalitarianism is not new. This historical revisionism globally known as "Cold War oversimplification" has been invalidated by the likes of Zizek and Lusordo. In War and Revolution, Lusordo proves the inaccuracy of Nolte's idea that Nazism's totalitarian form could be rooted to Communism.
This fragmented engagement with Marxism and Communism in the Philippines as well as the oversimplifications that result to not-so-on-point criticalness in investigating aforementioned issues can be interpreted as Claudio's "strategies of containment" or lines or boundaries that one's philosophy draw to preserve itself. Jameson notes that, "If one, is by temperament, by ideology, by social privilege, in some way, in a structural relationship of complicity with an existing order, then, the very functioning of ideology is to warn you that you must not overstep certain bounds in your thought as well as in your practice." There are moments of truth and Claudio is definitely aware and very eloquent about the phenomena, be it popular, artistic, political, or historical. On the other hand, total connections are deficient because there is a need to safeguard specific political standpoints.
The essays in Basagan ng Trip are very efficient because of their contemporariness, wit, and educational value. The compilation showcases Claudio's talent as a polemicist who tirelessly and authoritatively presents his points. Moreover, it could open curious minds that seek totality beyond the containment of his functions as an author and writer.
Reviewed by Maria Ima Carmela L. Ariate
Asian Center, University of the Philippines, Diliman
References:
Baudrillard, Jean. (1998). The Consumer Society: Myths and Structures (English translation). London: Sage Publications.
Eagleton, Terry. (2006). Criticism and Ideology: A Study in Marxist Literary Theory (New Edition). London: Verso Books.
Garcellano, Edel E. (1987). First Person, Plural: Essays.
Jameson, Frederic. (2009). Valences of the Dialectic. London: Verso Books.
Lusordo, Domenico. (2016). Ernst Nolte and the Development of Revisionism. Verso Books. Internet source: http:www.versobooks.com/blogs/2809-domenico-lusordo-ernst-nolte-and-the-development-of-revisionism (Accessed on 25 August 2016)