Find out about the Kyoto Review of Southeast Asia from the Center for Southeast Asia Studies, Kyoto University.
Trendsetters: Engaging writing from young researchers on Southeast Asia. Published monthly in Kyoto Review of Southeast Asia.
In May 2015, thousands of Rohingya and Bangladeshi migrants were rescued by Acehnese fishermen after being on the sea for weeks. Acehnese fishermen and their society have agreed to help and host the migrants. Photos by Henri Ismail. From Issue 18 of the Kyoto Review of Southeast Asia.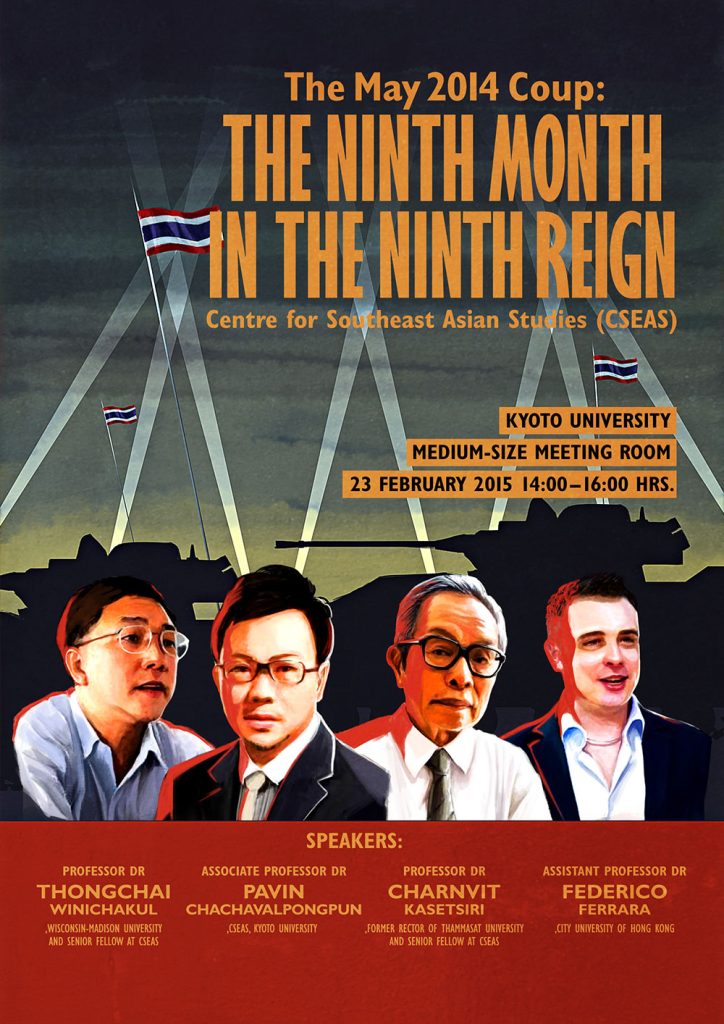 Event poster from academic seminar at the Center for Southeast Asian Studies (CSEAS), Kyoto University where Thailand's May 2014 Coup was discussed by the following speakers: Prof. Charnvit Kasetsiri, former Rector of Thammasat University and Guest Scholar at CSEAS; Prof. Thongchai Winichakul, CSEAS visiting research scholar from the University of Wisconsin-Madison: Associate Prof. Pavin Chachavalpongpun, CSEAS, Kyoto University; and, Assist. Prof. Federico Ferrara, City University of Hong Kong.
Watch the video from the above seminar.
Information about the journal, Kyoto Review of Southeast Asia from David Streckfuss; Thongchai Winichakul; Pavin Chachavalpongpun; and Lakkana Punwichai.
Information about Young Academic's Voice (YAV]. Each month we will publish an articled from an up-and-coming young academic under the umbrella of (YAV) on our online journal.
Interactive images from Onward or Return: Asylum Seekers in Indonesia. From the article by Dave Lumenta Ph.D. University of Indonesia. These images are from a photo essay in Issue 15 of Kyoto Review of Southeast Asia. Read the full article HERE