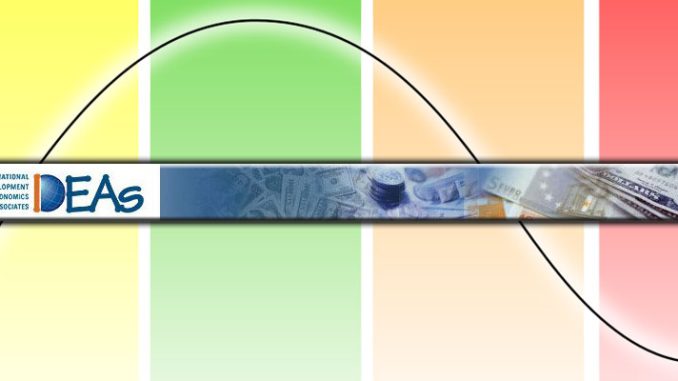 IDEAs: International Development Economics Associates
IDEAs, or International Development Economics Associates, is a pluralist network of progressive economists across the world. It seeks to undertake and promote a range of activities including research, teaching, dissemination, and application of critical economic analyses of economic policy and development. The organization is based in the South and led by economists based in several developing countries, but membership of the network is open to all those committed to developing and using alternative non-orthodox tools of economic analysis appropriate for meeting development challenges.
IDEAs was established in September 2001, following a conference in Cape Town, South Africa, on "Rethinking Development Economics" organised by UNRISD with the support of Ford Foundation. The current executive committee was chosen at that conference, with the mandate to establish and build the IDEAs network. With financial support from UNRISD, a secretariat was set up in New Delhi in October 2001. IDEAs is now formally registered in London, U.K., as a charitable friendly society.
 The address of the secretariat is:
International Development Economics Associates,
c/o Economic Research Foundation,
124 A/1, Katwaria Sarai, Main Road (2nd floor),
New Delhi – 110016, India.
Telephone: +91-11-26611235, 26850050.
Fax: +91-11-26611764
IDEAs as an organisation provides for two kinds of membership. Regular members would be invited to join based on a decision of the Executive Committee which would take account of their suitability from the point of view of the objectives of the organization and their demonstrated willingness to contribute to the functioning of the society. The second category, network members, consists of those who are free to register if they so desire. Depending on their interests and qualifications they are involved in various activities of the network. The regular members of the society elect the executive committee for a specified term.
The current Executive Committee of IDEAs consists of:
Professor K.S. Jomo (Chairman). He received his early education in Penang, Malaysia, and his Ph.D. from Harvard University in 1978. He is currently based at the Faculty of Economics and Administration, University of Malaya, Kuala Lumpur, and is an eminent economist and recognized specialist on the economies of the Southeast Asian region, with numerous books and articles to his credit. 
Professor C.P. Chandrasekhar. His early education was in Chennai, India, and subsequently he received his Ph.D. from Jawaharlal Nehru University in 1980. He is Professor at the Centre for Economic Studies and Planning, School of Social Sciences, Jawaharlal Nehru University, New Delhi. He has published widely on macroeconomics and economic development, and is also engaged in managing the website www.networkideas.org. 
Professor Erinc Yeldan. He studied in Istanbul, Turkey, and then received his Ph.D. from the University of Minnesota in 1988. He is currently Head of the Department of Economics of Bilkent University, Ankara. He is a prolific economist who currently specialises in dynamic general equilibrium models of the Turkish economy, and applications of endogenous growth systems.
Professor Franklin Serrano. He studied in Rio de Janeiro and went on to complete his Ph.D. at the University of Cambridge in 1996. He is now based at the Instituto de Economia, Universidade Federal do Rio de Janeiro. He works on critical assessment of economic theory and the application of the theoretical insights to understanding Latin American economies.
Professor Jayati Ghosh (Executive Secretary). She studied in New Delhi and subsequently received her Ph.D. from the University of Cambridge in 1983. She is currently is Professor at the Centre for Economic Studies and Planning, School of Social Sciences, Jawaharlal Nehru University, New Delhi. Her current areas of research interest include international finance, employment patterns in developing countries, macroeconomic policy, and gender and development issues, in all of which she has published widely.
 The Advisory Board of IDEAs consists of (in alphabetical order):
Professor Amartya Sen, Professor Arturo O' Connell, Professor Dani Rodrik, Professor Diane Elson, Professor Joseph Stiglitz, Professor Kari Polanyi Levitt, Professor Korkut Boratav, Professor Maria da Conceicao Tavares, Professor Prabhat Patnaik, Professor Samir Amin, Dr. Thandika Mkandawire (Chair). 
The IDEAs Research Team consists of:
C.P. Chandrasekhar, Jayati Ghosh, Anilkumar Mani, Sabyasachi Mitra, Surender Rana, Ranja Sengupta, Parthapratim Pal, Sujay Kumar Mandal, Narendra Singh, Smitha Francis and Amit Thorat, who are all based at the secretariat in New Delhi. 
Besides managing and contributing to the website, IDEAs has already hosted a number of international conferences and workshops since its inception. These include: a workshop in Rio de Janeiro in January 2002, followed by two workshops at the World Social Forum in Porto Alegre in January-February 2002; two sessions at the Annual International Conference on Economics at the Middle Eastern Technical University, Ankara, in August 2002; a major international conference on "International money and macro-economic policies of developing countries" (sponsored by UNDP) in Muttukadu, Tamil Nadu, in December 2002; a workshop at the Asian Social Forum in Hyderabad in January 2003; two sessions at the Ethiopian Economic Association Annual Conference in January 2003; a workshop at the World Social Forum in Porto Alegre in January 2003. 
We also encourage network members to suggest possible activities (which must be based in developing countries) and possibilities for exchange of scholars and those engaged in dealing with the economics of development.