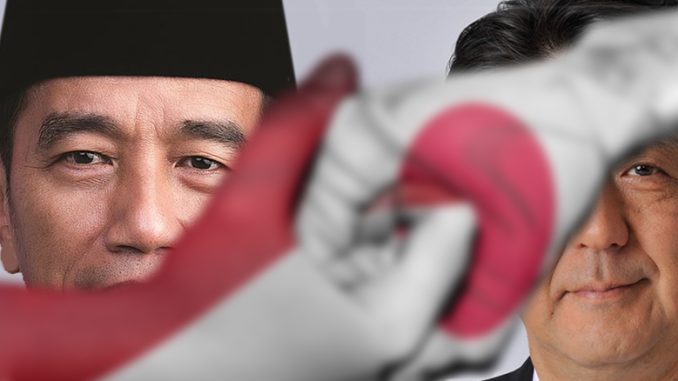 Indonesian president Joko Widodo's first visit to Japan after the assassination of former Japanese Prime Minister Shinzo Abe was marked by a statement from Joko Widodo himself. The president said, "Abe was an important leader who brought the strategic partnership between Indonesia and Japan into existence." This might succinctly sum up how Abe improved Japanese-Indonesian relations during his time in office. While acting as prime minister, Indonesia and Japan strengthened their cooperation in various fields such as economic development, culture, and security. Among them however, it is the closer military cooperation between Indonesia and Japan that stands out as legacy of the second Abe government.
Shinzo Abe is known internationally for escalating military spending and pushing through changes to Japan's defense policies. Most controversial was his wish to amend Article 9 of the Japanese constitution, a project that ultimately failed to receive public support. Indonesia on the other hand pursued a strategy of non-alignment throughout the Cold War period with its 'Free and Active' (bebas aktif) foreign policy.
Towards a Security Partnership
Since the establishment of diplomatic relations in 1958, Japan and Indonesia have largely been on good terms. A notable exception is the Malari incident of 1974, when anti-foreign capital demonstration climaxed at the arrival of the then Japanese Prime Minister Kakuei Tanaka to Jakarta (Sahrasad & Ridwan, 2020). Subsequently, Japanese-Indonesian cooperation has mostly centered on the fields of economy, cultural exchange, investment, development aid, and disaster handling. However, in the early 2000s, bilateral cooperation was extended to regional security, limited initially however to threats from non-state actors.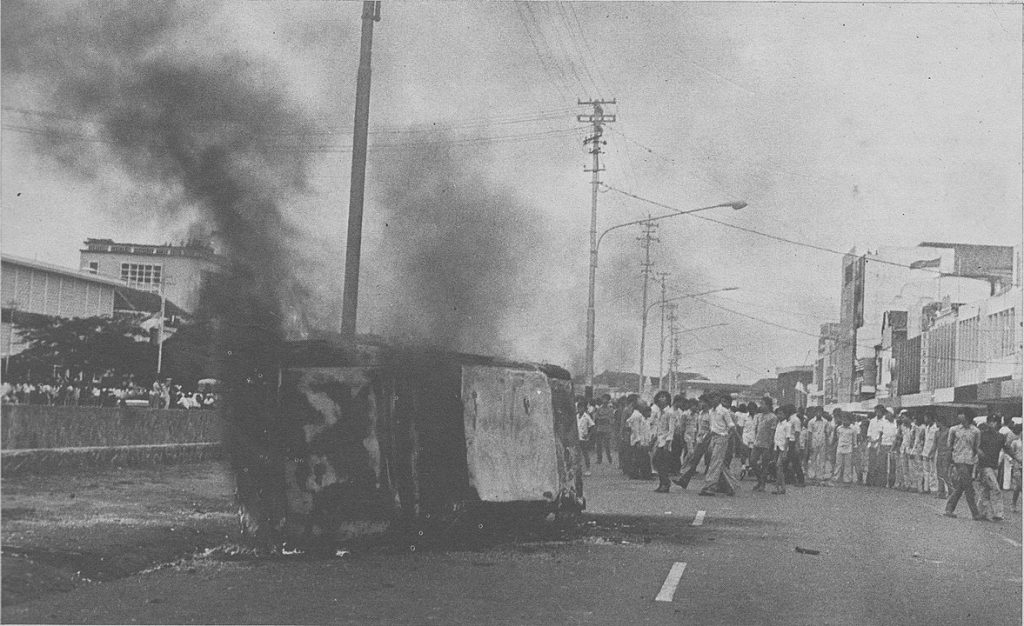 In 2001, Japan provided grant aid for the construction of patrol vessels to combat the increasing piracy in the region. The aid was a part of Japanese government's policy in combating piracy in Southeast Asia. Since 2001, Japan noted that there was a sharp increase of piracy in the region, which included interference with Japanese vessels. The Japanese government efforts in combating piracy comes in two ways: global basis and cooperation in Asia (MOFA, 2001).
Following the Bali Bombings in 2002, as a direct response, security-related cooperation between Indonesia and Japan was extended to counterterrorism in 2003. A document released by the Japanese government in 2003 stated that to promote bilateral cooperation in order to prevent terrorism, both countries would needs to establish capacity-building programs and provide access toward appropriate technology, while also developing multilateral cooperation to fight terrorism in an international scale (MOFA, 2003).
Indonesian President Susilo Bambang Yudhoyono – who dubbed Abe as his best friend when hearing news of his assassination – made a state-visit to Japan in November 2006, shortly after Shinzo Abe was elected prime minister for the first time. Bilateral cooperation was officially elevated to the status of a Strategic Partnership, which explicitly covered maritime affairs (MOFA, 2006). Yet it was only in 2013 that Prime Minister Abe and President Yudhoyono initiated an intensification of the security cooperation between Indonesia and Japan to maintain stability in the Southeast Asian, East Asian, Asia, and the Pacific regions (Antara News, 2013). In contrast to the earlier cooperation, this agreement was motivated by actions and threats from another state actor, namely China, and its maritime activities in the region, especially the South and East China Sea.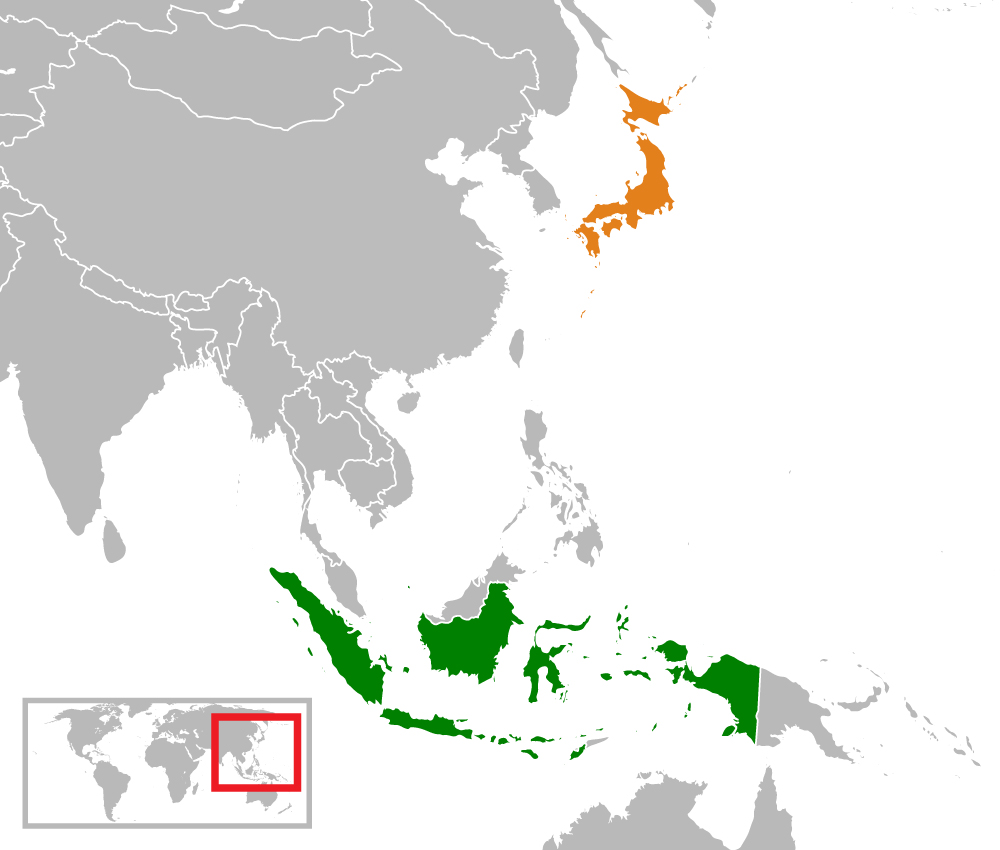 In the South China Sea, there are still several ongoing territorial disputes between China and its neighbors, including Indonesia. In 2014, it was reported that Indonesia was investing in its military in an effort to increase focus on 'hot spots' such as Aceh and Papua over separatist concerns, as well as the Natuna Islands in the South China Sea, as well as Atambua, which is close to Timor Leste and Australia (Strait Times, 2014). By securitizing the Natuna Islands, Indonesia aimed to counter China's claims of historical fishing rights in the islands' territorial water (Meyer, Nurmandi, & Agustiyara, 2019).
On the other hand, Japan at the same time had its own dispute with China and Taiwan over the Senkaku Islands in the East China Sea. These group of islands located in the western part of Okinawa are important for Japan, China, and Taiwan. They are significant for all because they serve as the most outer islands for both Japan and China, and serve importance for their maritime border (Sato, 2019).
Given the shared disputes with China, the forging of a security cooperation was a logical course of action for the two maritime democracies. In 2014, during a phone call with the newly elected Indonesian president, Joko Widodo, Prime Minister Abe emphasize the importance of both countries' strategic partnership and his intention to strengthen it against the backdrop of a changing regional security environment. He also expressed his belief that that both countries share fundamental values such as freedom and democracy (MOFA, 2014). One concrete outcome of this call was the establishment of the Indonesia-Japan Maritime forum in 2016, which underlines the important of maritime security and advances the defense cooperation between Indonesia and Japan (Suoneto & Riani, 2020), and which can be seen as an important communication channel between the two governments to discuss the shared security concerns such the South China Sea (Kedutaan Besar Jepang di Indonesia, 2020).
In 2018, Abe again emphasized the importance of the strategic partnership between the two countries, underlining the importance of shared universal values, namely, freedom, democracy, human rights and the rule of law, as well as their both being vast, maritime countries (MOFA, 2018). These references by Abe demonstrate the importance of the security cooperation between Indonesia and Japan as an implementation of the Free and Open Indo-Pacific Strategy (FOIP) initiated by Shinzo Abe as his landmark foreign policy.

Promotional video of Japan's vision of the Free and Open Indo-Pacific" form the MOFA YouTube channel.
The FOIP itself is a joint effort between Japan and the United States to balance the rise of China. FOIP sees that the key for a stable and prosper international community is the realization of the full potential of a dynamic region of two continents – Asia and Africa  – and two oceans – the Pacific and the Indian Ocean. This realization is to be supported by Japan (MOFA, 2022).
Researchers on the region, Szechenyi and Hosoya (Szechenyi & Hosoya, 2019) point out that the Indo-Pacific balance of power is increasingly contested as China seeks to enhance its economic and political influence using coercive tactics that threaten to undermine the principles held by Japan and the United States. The FOIP can also be seen as an effort by the United States (and Japan) to influence countries in the region, by using regional organizations such as the Association of Southeast Asian Nations (ASEAN), as mentioned in the official government issued by the United States Department of State (United States Department of State, 2019).
On the other hand, ASEAN itself, through their official website, as of 2022, reaffirmed that the FOIP and the ASEAN Outlook on Indo-Pacific (AOIP) still share relevant fundamental principles in the 2020 Japan-ASEAN joint statement, while Japan is also still promoting various cooperation with ASEAN that in line with the AOIP (ASEAN, 2022).
Realization after Abe's Resignation
Prime Minister Shinzo Abe resigned in September 2020 due to health issues. His successors continue to pursue defense and security cooperation with Indonesia in accordance with the FOIP strategy. In 2021, the first defense agreement between Indonesia and Japan was signed, thus allowing the export of Japanese-made defense equipment. According to Japan's defense minister, Nobuo Kishi, this agreement is important to accelerate defense cooperation between Indonesia and Japan. On the Indonesian side, Defense Ministry Prabowo Subianto expressed his gratitude to Minister Kishi for his active role in supporting the countries' defense relations, which he believed would continue to be expanded (Antara News, 2022).
Related to the FOIP, the United States presence was also felt in Indonesia during Garuda Shield 2022, joint military drills between Indonesia and the United States. While the United States' allies formerly joined Garuda Shield in 2009, 2010, 2011, and 2012, the drills in 2022 were the first joined by Japan (Combined Joint Information Bureau 7th Infantry Division Public Affairs, 2022). The military drills took place at a time of rising tension in the South China Sea, especially after the visit of speaker of the United States House of Representatives, Nancy Pelosi to Taiwan – which aggravated China considerably. This military get-together might be seen as a real effort to deter China's reaction to Pelosi's visit to Taiwan.

Super Garuda Shield, a part of Operation Pathways and a longstanding annual, bilateral military exercise conducted between the U.S. military and Indonesia National Armed Forces.
Another important moment for Indonesia and Japan defense cooperation happened in October 2022. During a visit by Japan Ground Self Defense Force (JGSDF) Chief of Staff, General Yoshida Yoshihide, Indonesia's army general Andika Perkasa spoke on his official YouTube channel about the defense cooperation between the two countries. Andika highlighted the importance of the partnership as it would strengthen the military cooperation between two countries. On the more technical issues, the official channel stressed the importance of their partnership for the coastal defense of Indonesia. In the talk, General Yoshida said that the JGSDF and Indonesian services should cooperate in amphibious operations, in which General Andika replied that they would cooperate by 2023. They opined that bilateral cooperation would enhance the friendship between the two countries (Perkasa, 2022).
Speaking on a technicality, as a maritime state with various coasts to defend, a coastal defense strategy is important for Indonesia. As stated by Defense Minister Prabowo Subianto, the coastal defense of Indonesia's 3 spots for the right of innocent passage need to be defended to prevent intervention by foreign forces (Setkab RI, 2022). With Japan's technological capability and Indonesia's vast manpower, it is interesting to see what will come in 2023 for this partnership.
As we have seen, growing military cooperation between Indonesia and Japan started during the Abe's governments. Certainly, many important pillars of the military cooperation between Indonesia and Japan are now in place. Other than a friendship that is built on an economic and cultural partnership, for Indonesia, the military partnership can also be seen as important in regard to the rising tension in the South China Sea. With China's aggressive stance on the region, Indonesia's securitization alone might not be sufficient to deter China's influence and ambitions.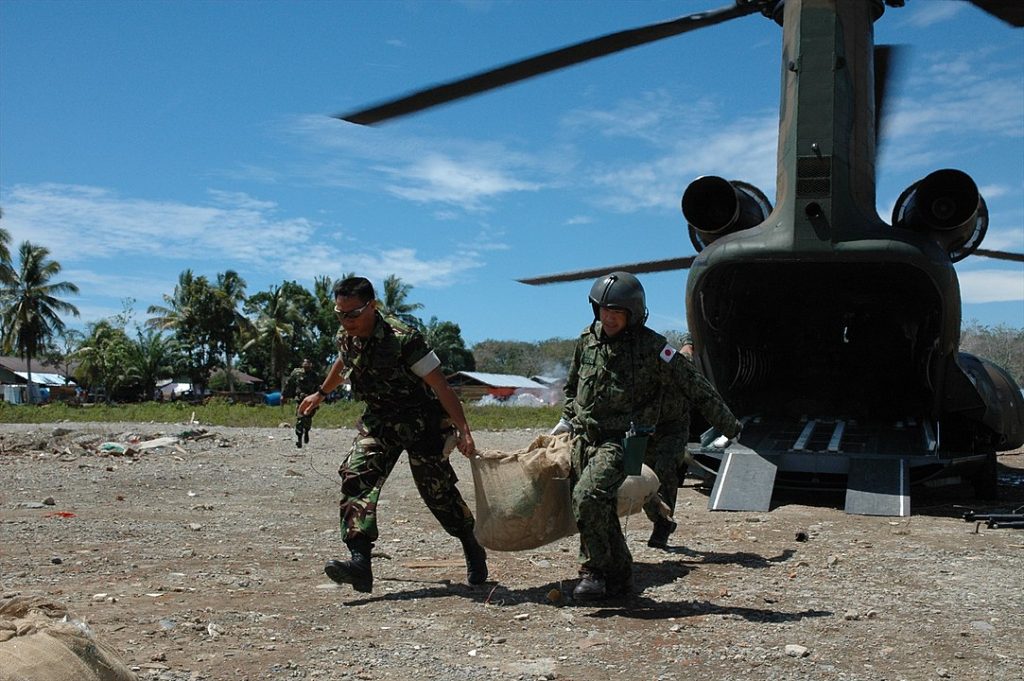 Conclusion
Indonesia and Japan have long enjoyed good bilateral relations and have cooperated successfully in various fields. But it was only under Prime Minister Abe that this cooperation was extended to defense, and that the main pillars of security cooperation centered on perceived threats from another state-actor. The Strategic Partnership between both countries signed under Abe as well as the Defense Agreement signed in 2021 after his resignation, reflect the considerable changes to Japan's defense policy under Japan's longest-serving prime minister. For Japan's East Asian neighbors, this has led to Japan's long-held pacificist stance being called into question, and heightens the anxieties between Japan and South Korea as well as its northern neighbor, but also of course with China. These far-reaching developments can only be understood against the backdrop of the increasing assertiveness of China in the context of territorial disputes, including maritime disputes with both Indonesia and Japan, which brought both democracies together.
For Indonesia, on the other hand, it could be argued that the closer partnership now covering security and defense cooperation contradicts Indonesia's long-held free and active foreign policy and its rejection of any alliance. It is also worth noting that Indonesia and China have joint infrastructure mega-projects on the horizon. It is unclear how Indonesia and Japan's military partnership would affect these enterprises in the days ahead.
Given the steps to expand defense cooperation between the two countries – even after Shinzo Abe'e resignation as prime minister in September 2020, there is no question that this security partnership will be Abe's legacy for Japan-Indonesia relations.
Bima Prawira Utama
Doctoral Student, Universitas Padjadjaran
Antara News. (2013, January 29). Indonesia, Japan to intensify cooperation in Asian security. Retrieved from Antara News: https://en.antaranews.com/news/87152/indonesia-japan-to-intensify-cooperation-in-asian-security
Antara News. (2022, June 22). Indonesia to continue defence industry cooperation with Japan. Retrieved from antaranews.com: https://en.antaranews.com/news/235485/indonesia-to-continue-defence-industry-cooperation-with-japan
ASEAN. (2022, April 1). Japanese Foreign Policy: Free and Open Indo-Pacific (FOIP). Retrieved from asean.org: https://jaif.asean.org/whats-new/japanese-foreign-policy-free-and-open-indo-pacific-foip/
Combined Joint Information Bureau 7th Infantry Division Public Affairs. (2022, August 3). Super Garuda Shield 2022 Showcases Multinational Partnership and Joint Interoperability. Retrieved from US Embassy Indonesia: https://id.usembassy.gov/super-garuda-shield-2022-showcases-multinational-partnership-and-joint-interoperability/
Kedutaan Besar Jepang di Indonesia. (2020, January 10). Pertemuan ke-3 Joint Committee Indonesia-Japan Maritime Forum. Retrieved from Kedutaan Besar Jepang di Indonesia: https://www.id.emb-japan.go.jp/news20_04.html
Meyer, P. K., Nurmandi, A., & Agustiyara, A. (2019). Indonesia's swift securitization of the Natuna Islands how. ASIAN JOURNAL OF POLITICAL SCIENCE.
MOFA. (2001, December). Present State of the Piracy Problem and Japan's Efforts. Retrieved from MOFA Japan: https://www.mofa.go.jp/policy/piracy/problem0112.html
MOFA. (2003, June 24). Japan – Indonesia Joint Announcement on Fighting Against International Terrorism. Retrieved from MOFA Japan: https://www.mofa.go.jp/region/asia-paci/indonesia/pv0306/terro.pdf
MOFA. (2006). Japan-Indonesia Joint Statement: "Strategic Partnership for Peaceful and Prosperous Future". Tokyo: Minister of Foreign Affair, Japan.
MOFA. (2014). Telephone Talks Between Prime Minister Shinzo Abe and Ir. H. Joko Widodo, President-elect of the Republic of Indonesia. Tokyo: MOFA Japan.
MOFA. (2018). Exchange of Congratulatory Messages between Mr. Shinzo Abe, Prime Minister of Japan and H.E. Mr. Joko Widodo, President of the Republic of Indonesia, on the occasion of the 60th anniversary of the establishment of diplomatic relations between Japan and In. Tokyo: MOFA Japan.
MOFA. (2022, May 16). Free and Open Indo-Pacific. Retrieved from MOFA: https://www.mofa.go.jp/policy/page25e_000278.html
Perkasa, A. (2022, October 9). Memperkuat Hubungan Bilateral Bidang Militer Indonesia – Jepang : Welcome General Yoshida Yoshihide. Retrieved from Youtube: https://www.youtube.com/watch?v=8fcfzTKynIg
Sahrasad, H., & Ridwan, M. (2020). The Malari 1974, Press and the Soeharto's New Order: A Historical Reflection on Student Movement in the Authoritarian Era. Budapest International Research and Critics Institute-Journal (BIRCI-Journal.
Sato, K. (2019). The Senkaku Islands Dispute: Four Reasons of the Chinese Offensive – a Japanese View. Journal of Contemporary East Asia Studies, 50-82.
Setkab RI. (2022, November 15). Keterangan Pers Presiden RI dan Menteri Pertahanan, di Kabupaten Maluku Barat Daya, Provinsi Maluku, 15 September 2022. Retrieved from Sekretariat Kabinat Republik Indonesia: https://setkab.go.id/keterangan-pers-presiden-ri-dan-menteri-pertahanan-di-kabupaten-maluku-barat-daya-provinsi-maluku-15-september-2022/
Strait Times. (2014, January 23). Jakarta to revamp military, with an eye on hot spots. Retrieved from Strait Times: https://www.straitstimes.com/asia/south-asia/jakarta-to-revamp-military-with-an-eye-on-hot-spots
Suoneto, N., & Riani, B. (2020, Septemeber 22). After Abe, Opportunities Loom for Japan-Indonesia Relations. Retrieved from The Diplomat: https://thediplomat.com/2020/09/after-abe-opportunities-loom-for-japan-indonesia-relations/
Szechenyi, N., & Hosoya, Y. (2019, October 10). Working Toward a Free and Open Indo-Pacific. Retrieved from Carnegie Endowment for International Peace: https://carnegieendowment.org/2019/10/10/working-toward-free-and-open-indo-pacific-pub-80023
United States Department of State. (2019, November 4). A Free and Open Indo-Pacific: Advancing a Shared Vision. Retrieved from state.gov: https://www.state.gov/wp-content/uploads/2019/11/Free-and-Open-Indo-Pacific-4Nov2019.pdf