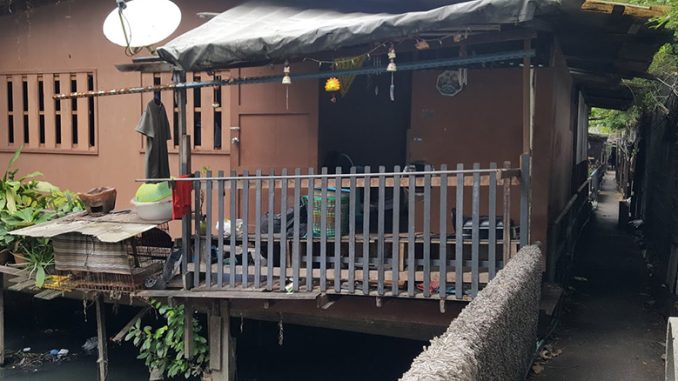 Flooding poses a major environmental challenge in Thailand.  It affects several provinces almost every year.  Even just one hour of normal rainfall can cause flooding in Bangkok and its suburbs.  Many of the Thai government's projects to prevent flooding involve removing communities living along canals. Despite the complex causes of flooding, these communities are often blamed for blocking the flow of water.  Drawing on the political ecology perspective, 1 this essay will examine the contested relationships between canals, flooding, and the urban poor.  It will show how, since the coup d'état in 2014, the military-led government has strictly enforced the removal of communities living along canals by applying post-disaster logics. These measures have been supported by middle-class Bangkokians, who dislike having urban poor communities located near their neighborhoods.  Accordingly, the removal of communities along canals under the military government has been a product of the combination of two processes, namely, environmental gentrification and eco-authoritarianism. The former term signifies the process of removing the urban poor for reasons of environmental improvement. 2 The latter raises the question of how authoritarian governments engage in environmental protection in ways that are different to democratic governments because they can ignore rights claims made by the poor to initiate  environmental projects. 3
Long-standing negotiations over communities living along canals
It is difficult for Bangkok to avoid flooding. The city is located at the mouth of the Chao Phraya River and large parts of the city are below sea level.  In the past, Bangkok and other nearby provinces could cope with flooding because of the river and canal system, which helped to absorb water during the monsoon season. 4 However, this system has been destroyed due to rapid urbanization.  The construction of roads, expressways, and buildings has reduced the number and size of canals. 5 Furthermore, the official population of Bangkok has increased from 2,150,000 people in 1960 to 10,539,000 people in 2020. That Bangkok's overall ability to absorb water has declined cannot be solely attributed to people living along canals blocking the flow of water. Instead it must be considered as part of a wider set of processes of socio-environmental transformation.
There have been long-standing negotiations in Thailand over whether it is justified to remove slum communities along canals in order to preventing flooding.  On the one hand, from an ecological perspective that aims to keep the canal system pristine, human settlement alongside canals should be prohibited.  Some government agencies, particularly the Department of Drainage and Sewerage of the Bangkok Metropolitan Administration (BMA), have adopted an engineering perspective maintaining that widening canals will enable faster water flow. Therefore, they contend that the slum communities located along canals that block these waterways and cause flooding in Bangkok should be relocated.
This view resulted in action to forcibly remove Bang Oo Community after major flooding occurred in Bangkok in 1983. Located along the Bang Oo Canal in Bangkok's Phra Khanong District, Bang Oo Community was accused of blocking the flow of water to the Chao Phraya River, thereby causing major flooding throughout the entire city. To address this perceived problem, two-hundred armed police commandos violently demolished the homes of eighty families in Bang Oo Community. 6 Although flooding continued to be a problem in Bangkok, it was not serious as in 1983, so the BMA turned its attention to street vending and traffic congestion. Therefore, the plan to remove communities alongside canals was shelved.
However, the issue of evicting communities along canals was revived during the administration of Governor Bhichit Rattakul (1996-2003).  Bhichit was popular among the Bangkok middle-class because of his campaign to make Bangkok a livable city and because of his image as someone concerned about environmental pollution.  He promised to increase green spaces in Bangkok and restore the water quality in canals. His campaign captivated the imagination of the middle-class, which thought of images from developed countries, like Kyoto, Japan, where canals featured clean water flanked by tree-shaded walkways rather than slum communities. When Governor Bhichit tried to implement his promise, it caused some district officials to evict slum communities living alongside canals.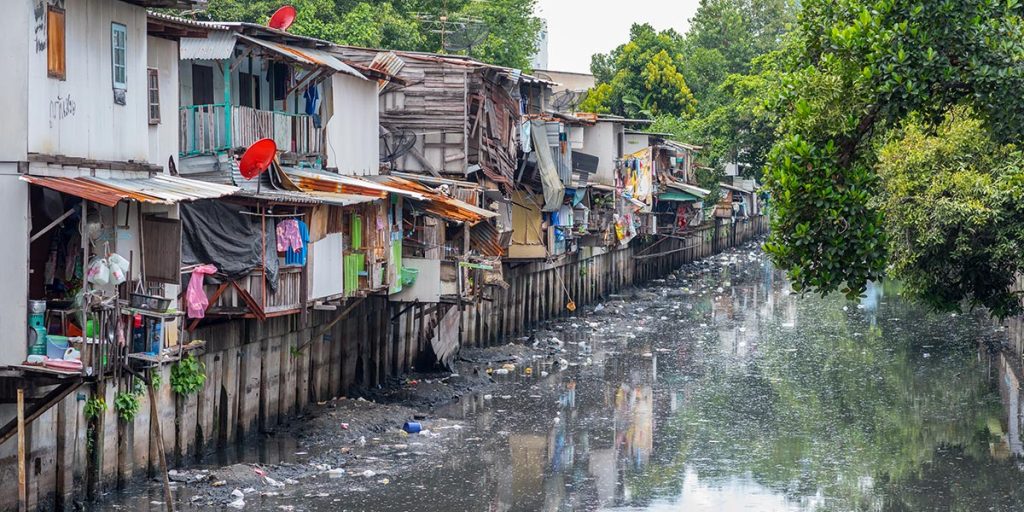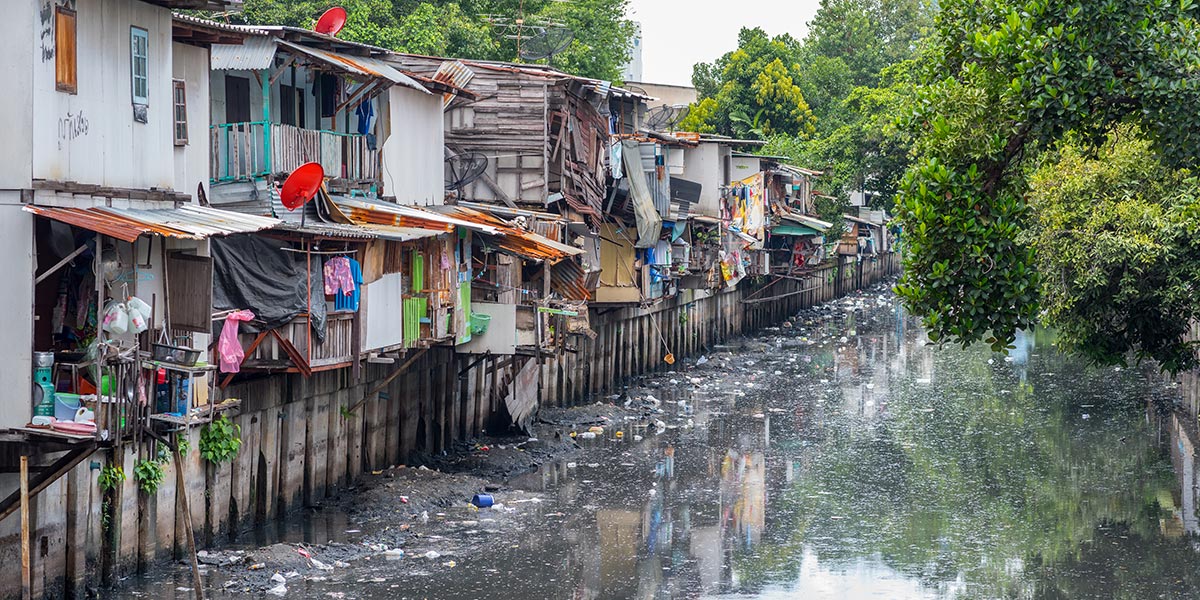 Slum communities and their allies, such as non-governmental organizations (NGOs) and scholars, countered the accusation that slum dwellers made the canals dirty and caused flooding.  On September 1, 1998, around 1,000 slum community members, led by Four Regions Slum Network (FRSN), a national network of slum communities covering all four regions of Thailand, protested in front of the BMA office. 7 They insisted that slum dwellers living along canals did not dump garbage into the waterways and cause flooding.  Instead, they highlighted how garbage flowed from elsewhere, and slum communities had acted collectively to remove garbage from the canals.  In other words, they argued that slum residents were, in fact, responsible for the improvement of the canals and that the BMA should stop blaming them for the flooding. The FRSN introduced an important discourse that "communities can live alongside canals," recalling how Thai villagers had lived alongside canals for centuries.  As a result of this movement, Governor Bhichit accepted the communities' demands, announcing that communities would be able to live alongside canals and that the term "eviction" had to be deleted from the dictionary.  For the rest of Bhichit's term, there were no more evictions. 8
Governor Bhichit's response was meaningful. The FRSN even published posters bearing Governor Bichit's photograph with his promise and distributed them to communities to prevent district officials from threatening them with eviction. The communities' arguments and Governor Bhichit's decision reflect how environmental management cannot rely solely on technical knowledge, but also must consider the social relationship between human settlements and the environment. 9 Moreover, this history reveals the importance of democratic politics in mediating this relationship. Because Governor Bhichit was an elected official, he had to compromise with both the middle-class and the urban poor. In the era of dictatorship, the situation changed dramatically.
Canal restoration under the military government
The plan to relocate people living alongside canals was suspended in 1998.  However, after severe flooding struck Thailand in 2011, causing 815 deaths and affecting 13.6 million people, the BMA's Department of Drainage and Sewerage proposed a new plan to remove people living along nine main canals in Bangkok, affecting 12,307 households. This plan was not implemented until General Prayuth Chan-Ocha seized power from the elected government of Prime Minister Yingluck Shinawatra on May 22, 2014.
The junta's leader claimed that he had to overthrow the elected government because it had failed to control political conflicts.  General Prayuth emphasized that the coup was meant to bring security to the country through the restoration of order. The government announced eighteen emergency policies to accomplish this aim, including bringing order to walkways, organizing van transportation, reclaiming forests, and restoring canals. The eviction of canal-side communities to prevent flooding must be analyzed within the military's broader effort to restore political order. The phrase "ordering communities along canals" implied that communities intruding onto canals were both environmentally and politically disruptive.
Government officials only portrayed positive views of this policy, as in the case of Lad Phrao Canal, where many community residents cooperated with the government project by moving their own houses from being above the canal to land beside the canal. However, this canal was the only case where people were allowed to rebuild their houses near their original location. Residents there along Lad Phrao also received relatively generous compensation for their cooperation, such as 80,000 baht per house removed. They also benefited by being able to join the government-supported Secure Housing (Ban Mankhong) Project.
People living along other canals did not benefit from special government measures when they were removed. For example, Army and BMA officials threatened slum dwellers who had built their shacks in Ban Ta Pho Community, Khlong Sam Wa District.[x] The Army claimed that it had received a complaint from wealthier residents of a nearby gated community requesting the removal of the slum community.  It is not surprising that middle-class communities disliked having urban poor communities located near their neighborhood, as the makeshift houses of the poor made their neighborhood unattractive. Likewise, Khlong Peng Community in Watthana District (one of Bangkok's business districts) faced threats of removal by BMA officials. The community was located in a commercial area with luxurious car showrooms, hotels, and shopping malls. However, because the BMA did not have budget to provide compensation to evicted residents, these private companies donated money to help pay for the community's removal.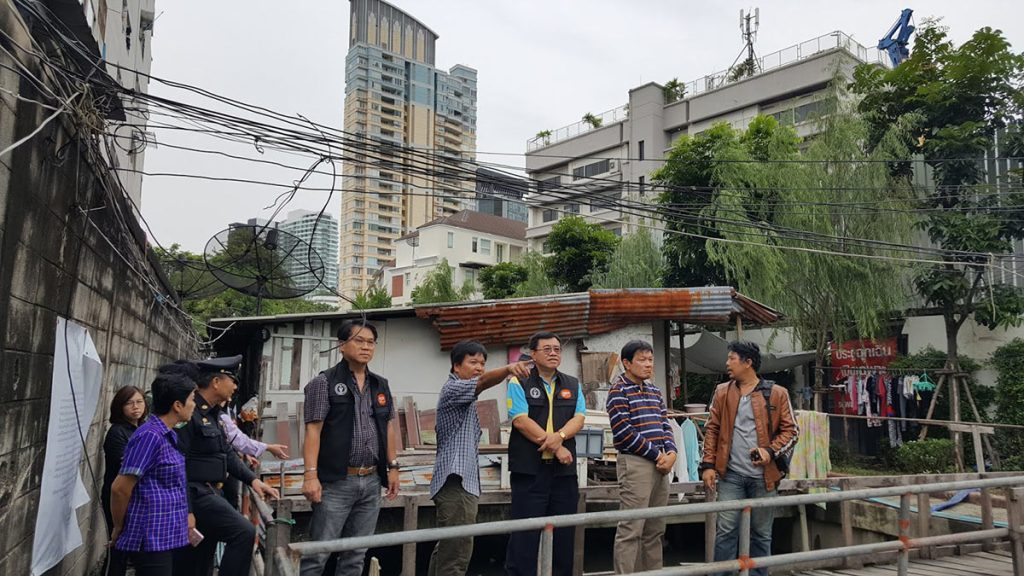 The privatization of eviction compensation reveals the link between environmental gentrification and eco-authoritarianism. Although the removal of the communities was proposed as a means of flood prevention, the project also served the interests of the private sector, which wanted to beautify their surroundings by eliminating the unsightly shacks of the poor. Ultimately, the evictions materialized because of eco-authoritarianism, namely bureaucrats under the military regime strictly enforced the law and ignored all other aspects of the situation, such as whether the urban poor who were evicted had anywhere else they could live.
Following the 2014 coup, canals have been governed similarly beyond Bangkok as well.  For example, after large floods in Chiang Mai in the year 2000, the municipal government did not exert any pressure on people living along canals. At that time, the city's active community network showed that its members could care for the canals and improve the urban environment. However, evictions also returned to Chiang Mai after the military coup in 2014. Because the junta suspended local elections, it has held considerable power over local governments. In this context, local governments were charged with implementing the junta's policies instead of being accountable to the local people. Accordingly, the policy of bringing order to canals was pushed in Chiang Mai as well.  In May 2018, a group of soldiers threatened residents living over the Mae Ngeon Canal with imprisonment for violating the law, forcing them to dismantle their homes. 10
This essay has compared Thailand's environmental management of flooding under democratic administrations with that which has taken place under military dictatorship. It has shown that governments have cited concerns over flooding to remove people living along canals as far back as 1983. Despite the fact that these plans have generally been supported by the middle-class and business sector, during democratic periods, community residents have effectively organized, participated, and protested against projects that aimed to demolish their communities. In contrast, the recent military government has linked environmental management with its efforts to bring order to society. In doing so, it has neither prevented flooding nor improved the environment, but more often advanced the interests of wealthy citizens at the expense of the poor. This recent history reveals how the military has effectively mobilized environmental regulation to deepen its own power, ignoring residents' voices and forcing them to dismantle their own houses in the process.
Boonlert Visetpricha
Lecturer of Faculty of Sociology and Anthropology, Thammasat University