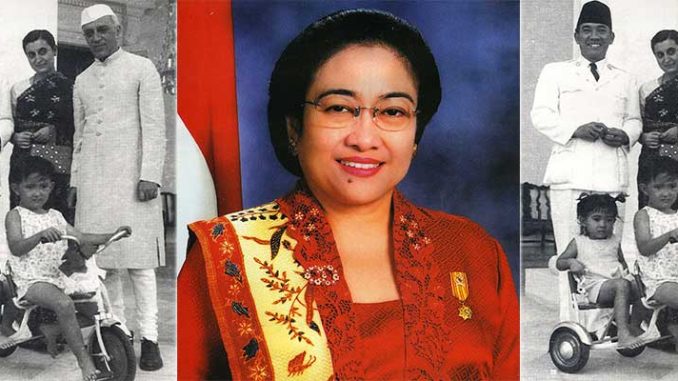 The Soeharto Family's Accumulation of Wealth
Soeharto Family no chikuzai
Murai Yoshinori et al.
Tokyo / Commons / 1999
Destiny's Eldest Daughter: The Early Life of Soekarno's Daughter Megawati
Unmei no chojyo—Soekarno no musume, Megawati no hansei
Akio Satoko
Tokyo / Sincho Press / 2000
Indonesia in Confusion
Indonesia ryoran
Kano Hiroyosi
Tokyo / Bungei Shunjyu / 2001
Indonesian politics has changed dramatically in the last few years. Three recent Japanese books seek to explain these changes, with particular focus on economic realities, the lives of leaders, and the effect of social divisions on the political process.
Murai Yoshinori and three co-authors contribute to our understanding of why Soeharto finally lost his legitimacy in Soeharto Family no chikuzai (The Soeharto family's accumulation of wealth). First, with data and details about Soeharto-related businesses, the authors show how the family and its cronies raised money and made political decisions for their own gain. Second, the authors criticize the cozy relationship between Indonesia and Japan which has long operated on the basis of "KKN" (Korupsi Kolusi Nepotisme, or corruption, collusion, nepotism). Here they insist that Japan take the initiative in changing its own attitude toward money and connections in order to support the Indonesian people in solving the KKN problem. Lastly, this book helps the reader see how the foregoing issues are concretely related to the lives of ordinary Indonesian families through an examination of the household economics of eating, transportation, and land use (especially the effect of Soeharto-connected construction firms). They argue that both the Indonesian people and international opinion finally saw the harm caused by KKN in the economic crisis of 1997; this might have caused Soeharto's legitimacy to disappear. The book owes much to the authors' long standing criticism, from a position on the moderate left, of Japanese ODA (Official Development Assistance) policies and to their illumination of the relationship between people's lives and world markets (especially the Japanese market) through studies of small but essential goods such as shrimp.
How did the new leader come to appear on the political stage? Akio Satoko deals with this in Unmei no chojyo: Soekarno no musume, Megawati no hansei (Destiny's eldest daughter: The early life of Soekarno's daughter Megawati). While Murai analyzes the Soeharto family economically, Akio depicts Indonesian politics through the family life of Megawati. Writing journalistically, she strongly emphasizes Megawati's gender roles—as daughter, mother, and wife—especially her "destiny" as the daughter of Indonesia's first president. Arguably, she draws the contrast between Megawati and Soeharto too simply as "good" and "bad." However, she has gathered wide-ranging source material, including interviews with everyone from taxi drivers to Megawati herself in the period before she became president. The material from her several interviews with Megawati are of special value in understanding this often silent Indonesian leader.
Akio locates Megawati's political career in relation to Soekarno's family life and presidency. She relates, for example, how Megawati stayed with her father (when her mother moved out to make way for a new wife) and acted as ibu (mother) to the younger children and as first lady on Soekarno's trips abroad. Focusing on the personal, the author depicts what Megawati thought and felt during each important political event and how both her surroundings and Soeharto's political decisions helped make her a symbol of the democratization movement. Finally, the author sees Megawati changing from "Soekarno's daughter" to "mother" of the Indonesian people. But she worries that these "good" roles, and Megawati's future as a national leader, are threatened by her role as wife to a husband deeply implicated in the plutocracy.
But Megawati did not win the presidential election. Kano Hiroyosi's Indonesia ryoran (Indonesia in confusion) hopes to explain why. He explores political events after the fall of Soeharto both through the eyes of his specialty in Indonesian rural economics and through his experiences with JICA (Japan International Cooperation Agency) in 1997 and 1999. This is not an academic book, but an essay for general readers. Kano's discussion is loosely organized into three parts, in which he explores social conditions in recent years, economic history, and the recent general and presidential elections. He thinks social divisions affected the result of the general election, which in turn caused Megawati's loss of the presidential election to the tactics of leaders of other political parties. Nevertheless, Kano does not convincingly connect social divisions to political parties and leaders, because he considers only economic and religious differences. Further consideration is needed on this point to grasp a much more diverse reality. Helpfully, the sources of Kano's argument are available on his web site: http://www.ioc.u-tokyo.ac.jp/~hkano/main.shtml
These three books let readers see different perspectives from which to approach politics. Yet even the combination of all three cannot entirely explain the recent dynamic changes in Indonesian politics. Younger Japanese scholars are now doing research on topics in this period, such as the role of the military, local politics, and the new generation of politicians. We hope their work will contribute to a more comprehensive understanding of Indonesia being transmitted to the Japanese public in the coming years.
Murakami Saki and Morishita Akiko
The authors are students of Indonesian history and politics at Kyoto University's Graduate School of Asian and African Area Studies.