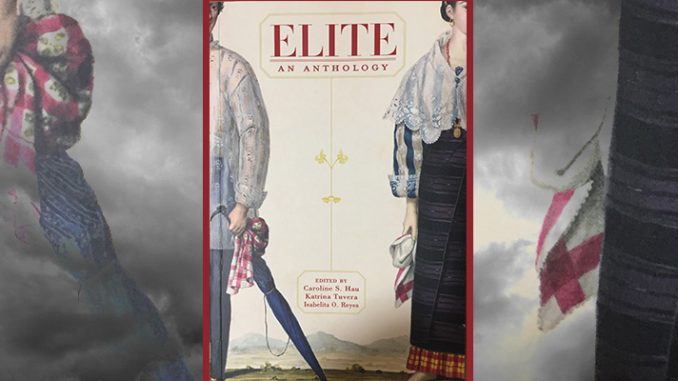 Title: Elite: An Anthology
Edited by: Caroline S. Hau, Katrina Tuvera, Isabelita O. Reyes
Mandaluyong City: Anvil Publishing, 2016
Elite: An Anthology brings together a kaleidoscope of caricatures of the Filipino elite in a collection of 17 short stories and 16 pieces of poetry. Various luminaries of the Philippine literary scene offer an answer to the question "Who are the Filipino Elite?" through an exposition of diverse themes, perspectives and time periods. These works of art illustrate Filipino elites in their glory and depravity, relative consequence and insignificance, bound altogether in rich tapestry form.
Highlights
Two general characteristics make this compilation stands out: diversity and provocativeness.
First, as an anthology, the book presents a breadth of subjects and writing styles. This diversity takes form in the topics dealt such as communal unrest and uprisings (A Harvest of Humble Folk, Mga Apoy sa Ilaya), familial bonds (The Judge, The Atheneum), elite decadence (The Giants), loss of innocence (Don Carlos Cobello, On Cursed Ground), to name a few short stories. There is surely something that will entertain or enlighten the reader within its 342 pages.
Another aspect of this diversity is the book's bilinguality. Most of the literary pieces presented are written in English with a few Tagalog or Spanish expressions and aphorisms mixed in. But other than this there were also some exemplary works in Tagalog (Ang Huling Pakkaw ni Agoxup, Mga Apoy sa Ilaya, Ang Nawawalang Singsing, Ang Presidente sa Palasyo in short stories and Ang Matandang Simbahan sa Paoay, Pamilya Sosyal and Sa Utak ang Tama in poetries). There is even one work in English translated from Spanish (Capitan Tiago from Noli me Tangere). The presence of these works enables the reader to connect with the languages of the Philippines and reflects the predominant Filipino psyche; historically Spanish, articulate in English, but very much grounded in Tagalog, the language of the capital region.
Second, the bold and provocative subjects dealt with in each literary work often challenge the conventional understanding of the Filipino elites. There was no shortage of intrigues and controversial topics such as sibling incest (mentioned in Don Carlos Cobello), incitement to sedition (the accused's crime in The Trial of Professor Riesgo), homosexuality (in the main character of Ang Nawawalang Singsing), prostitution (Proof of Homo Ichthus), sexual affairs and other deviant behavior. Alongside these were the presence of works that stripped the elite to its raw human base (helplessness of a paralytic in The Judge, social alienation in Don Paco, neurotic behavior in Ang Presidente sa Palasyo, etc). These works invite the reader to consider what makes the elites so special or different from everyone else. Are they truly better off? Such critical questions arise as the stories challenge the readers to think more deeply about their own closely held beliefs about the privileged of society.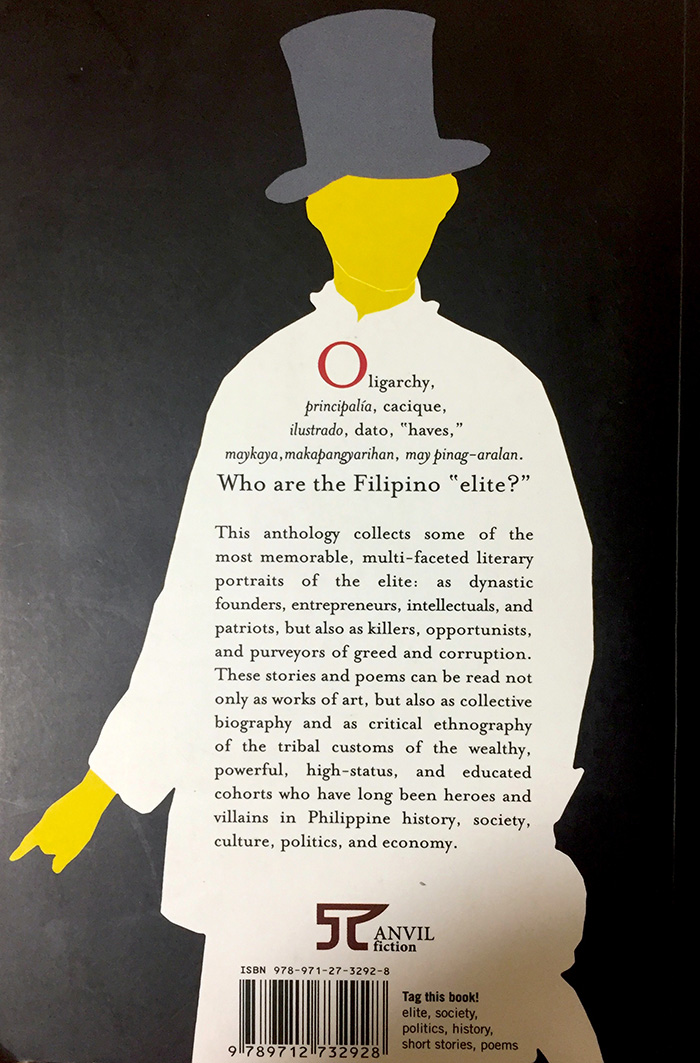 Reflection on Selected Works
Any story about elites reveal the inner workings of social order. This is because the elites have the power to influence or affect their socio-political communities as a whole. As Hau notes in the Introduction, "What matters is that the dynamics of elite relations with each other and with the rest of the Filipino people have an important bearing on the fortunes or otherwise of the Philippine nation-state." (p.xi). Hence, we often consider elites as beings of consequence. But in a work of fiction elites can be stripped of their prominence and their human nature laid bare. In doing so it encourages the readers to find meaning and relevance. No other work can accomplish this as effortlessly as works of fiction.
Such derived meanings are tightly bound up with the identity, subjective experience and social context of the reader. Personally, two stories resonated with my own convictions and experiences more than others.
First, the story of Ang Huling Pakkaw ni Agoxup by U.Z. Eliserio centered upon a lame Isneg warrior coming to terms with his father's death and his own cowardice. It stood out as unique foray into the lives of the tribal communities of the North. My family has deep roots in the Ilocos region and so it was interesting for me to read about the Ilocanos being branded as banyagas or outsiders by the Isnegs, and consider my own "tribe" from the outside in. The age-old tension with the Isnegs seemed to be a result of having two seemingly incompatible ways of life. To survive, a community must establish itself and adapt to the times; a decision often facilitated by their leaders. In Agoxup's case, this move was finalized by his unwillingness to pursue the old headhunting ways and not challenge the new leader's tilt toward conciliation with the Ilocanos, heralding a new and uncertain future for the Isnegs.
Second, The Birth by Reine Arcache Melvin, presents a story about a young mother's struggles to establish a relationship with her newborn child. Tanya, the mother and main character, was born into a life of privilege. Being married into a family of similar stature assures that her daughter would have the same future. Yet despite this and the so-called trappings of wealth, her estranged relationship with her husband seemed to present a bleak future for her and her newborn. This story stood out for me because as an expectant mother, the author's writings on the experience of childbirth, breastfeeding, and caring for one's child along with the overwhelming fear and uncertainty of the future tugs at something deep and primal. These feelings are shared among mothers no matter their circumstances, though we all make different decisions in the end.
Overall, this anthology succeeds in providing a tantalizing glimpse into the world of the elites in Philippine society. It's compilation of diverse and thought-provoking stories offers something for both casual and serious readers alike. It would certainly enrich any library that espouses to understand Philippine society and culture.
Reviews by Katherine Bandanwal
PhD. Candidate, National Graduate Institute of Policy Studies (GRIPS), Tokyo.