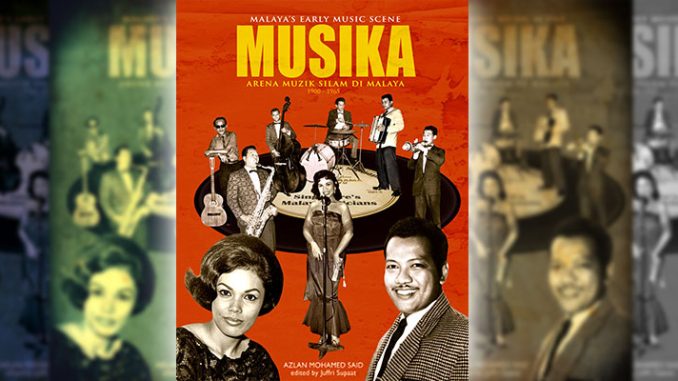 Muzika: Malaya's Early Music Scene, 1900-1965.
Azlan Mohamed Said, edited by Juffri Supa'at.
Singapore: Stamford Printing, 2013. 256 pages.
W
hile flipping through his late father's personal photo album, Azlan Mohamed Said was intrigued to see copious photographs of Malay musicians, both famous and unknown, from the 1940s to 1960s. Azlan's father, Mohamad Said Abdul Rahman, also known as 'Said Tenor', was a professional clarinettist and tenor saxophonist in Singapore since the 1940s (p.140-141). For Azlan, the photos in his father's album indicated an era of intense musical activity that occurred in weddings,
bangsawan
theatre halls,
joget
and cabaret dance clubs, entertainment parks as well as radio and film music recording studios. More importantly, the photos reveal a tightly knit community of professional musicians that supported and learned from each other, culminating in a vibrant creative network of artists in the small but bustling island-city. With the encouragement of his childhood friend and collaborator, Juffri Supa'at, a librarian of Malay literature at Singapore's National Library, the duo took on the ambitious project of connecting with all of Said Tenor's colleagues to compile a historical biography of Singapore's professional Malay musicians.
The bilingual book in English and Malay is bound as an A4-sized paperback in full colour; necessary for the wealth of photographs that occupy its pages. In fact, readers could purchase the book for the images alone as most of them are rare photographs sourced from the personal collection of Azlan's father and his colleagues. Unlike most depictions of music and musicians from this era, these are not images that you would find in commercial Malay-language film and music magazines. Unfortunately for scholars, specific dates and sources for most of the images are not stated. It could be that the dates for some photographs may have been forgotten by the owners themselves. Moreover, as some of the images are from private collections, the authors may be obscuring them upon the request of the owners. Nonetheless, the photographs reproduced in the book are important cultural documents and much can be gleaned from them. In addition, the photographs are credited to their contributors at the end of the book (p.248).
I am particularly struck by a photograph captioned 'traditional Malay music ensemble' dated '1947' (pp.16-17). Readers will see fourteen young women, all are sitting in the front row, wearing Malay kebaya outfits and a young girl in a Western dress. Standing behind them are ten men holding musical instruments wearing Malay traditional clothes (baju Melayu) and Malay headpieces (songkok). The instruments they are holding contrast their traditional dress; trumpets, saxophones, a double bass, accordion and drum kit. This image signals the cosmopolitan hybridity of Malay music in the mid-1950s. It also indicates that women were not involved or not depicted as players of musical instruments – they were either singers, dancers, or actresses. In contrast to this, in a section on 'entertainment centres', readers will notice pictures of jazz cabaret orchestras posing on their bandstands (pp.32-33). One picture displays eight male musicians in white coats, dark slacks and bowties on a bandstand that displays above them in large letters 'last dance, tango, quick step, slow foxtrot, waltz, samba, rumba, fast waltz' (p.33). These words indicate the kind of dances and consequently, the international styles of music that these musicians performed for their patrons; further indication of the cosmopolitan environment of the Singaporean entertainment industry during the 1940s-1960s.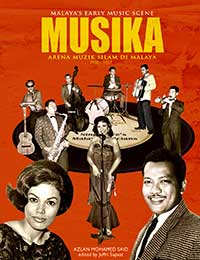 While this is not a formally-structured 'academic' book, it nonetheless provides a chronology of musical practices in the Malay world from the 1500s to 1965. This is useful for readers who are unfamiliar with the cultural history or musical practices of the Malay Peninsula. The historical section preceding the 'biodata' section of specific Singaporean-based Malay musicians outlines a 'brief history of Malay syncretic songs' (pp.14-15), music during the pre-war bangsawan Malay theatre and gramophone industry (pp. 166-25), music in Japanese-occupied Singapore during World War Two (pp.26-31), and finally, the post-war period marked by entertainment parks, radio and film (pp.30-47). After the biodata section, the book contains sections on famous Malay groups or bands, Indonesian artists, and a brief section on the Musicians Union of Singapore. For the academically inclined, the authors provide a list of references at the end of their book, including a generous list of articles on Malay music from the era sourced from the Singapore National Library's online newspaper database (pp.248-251).
Of the 79 short biographies contained in the book, I will highlight a few interesting personalities rarely mentioned if not only recently emerging in musical scholarship on the Malay Peninsula. The musician 'biodatas' are listed in chronological order of the musicians' birth year. The first musician listed in the biodata section is Khairudin, who was known under his alias, 'K. Dean'. Born in 1890 of a Cantonese mother and Punjabi father, K. Dean became a prominent bangsawan theatre performer due to his talent as a comedian and a multi-lingual singer, performing to an audience of diverse ethnicities in 'Cantonese, Punjabi, Malay and English' (p.52). Aside from forming his own bangsawan troupe in 1932, he also acted in the first Malay-language sound film produced in Singapore, titled 'Laila Majnun' (1934, dir. B.S. Rajhans) alongside his wife, Miss. Tijah (p.53).
K. Dean's wife, also featured in the book, was a famous bangsawan actress, singer and recording artist. She was known for her recording of popular Malay songs such as "Trek Tek Tek" that was later reproduced in the film Sumpah Orang Minyak (1958, dir. P. Ramlee), re-sung by Normadiah (p.57). What can be observed in K. Dean's and Miss Tijah's biographies is the extent of musical activity that existed across the region prior to World War Two. Bangsawan practitioners like Miss Tijah – who came from Pontianak in Indonesia – based their careers in Singapore and performed in travelling troupes across Indonesia and the Malay Peninsula. Similar observations can be made of the younger female singer, Momo Latiff who not only had a colourful bangsawan upbringing as a child in Indonesia but was also active as an actress and playback singer in Singapore's booming Malay film industry in the 1950s (pp.120-121).
Of particular interest are the biographies of musicians and composers that were 'behind-the-scenes' in the Malay films of the 1950s to 1960s still popular today. These include the lesser-known film-music composers – aside from P. Ramlee and Zubir Said – such as Osman Ahmad, Yusof B. and Wandly Yazid. Other musicians involved in films include Said Tenor's musical performance and appearance in numerous releases during the 1950s (pp.140-141) as well as Rahmat Ali's trumpet playing for P.Ramlee's famous film-song "Ibu" (p.88-89).
Muzika is a rare gem of a book on music and history in Southeast Asia. While it may not appear to be formatted in the conventions of western scholarship, this book is highly recommended as an earnest, thoroughly researched and personal account of the unknown Malay musicians who made a living as entertainers in Singapore from the early to mid-1900s. It is thus, a rich source of biographical information and photographs that depict the cultural life and social economy of Malay musicians who worked in Singapore during a period spanning the apex of British colonialism, the Japanese occupation and the transition to national independence in the Malay world.
Adil Johan 
Adil Johan is a Ph.D. candidate in Music Research
Music Department, Strand Campus, King's College, London
Kyoto Review of Southeast Asia. Issue 15 (March 2014). The South China Sea