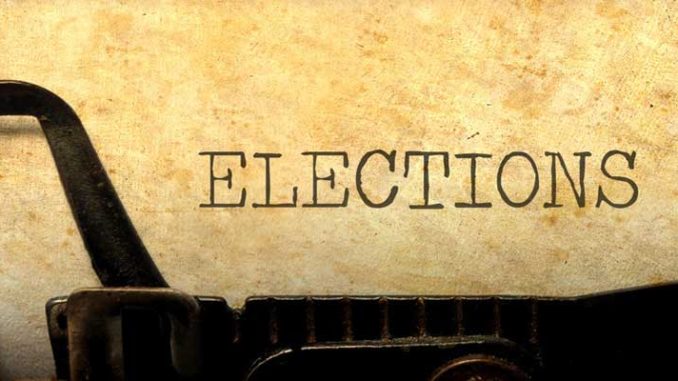 The Indonesian elections of 2004 differed from previous elections – most recently held in 1999 – in scope, procedures, and mechanisms. The differences are summarized briefly in the table below, following which I will focus on the legislative election of 5 April 2004. 
Previous Elections

2004 Elections

Purpose:
To choose legislative members of the DPR (Dewan Perwakilan Rakyat, House of Representatives) and the DPRDs (Dewan Perwakilan Rakyat Daerah, the local legislatures) only

Purpose:
To choose members of the DPR, the DPRDs, the DPD (Dewan Perwakilan Daerah, Regional Representative Council, the new upper house), and the president and vice president

Procedure:
Single-stage election for members of the DPR, DPRD I (provincial legislatures), and DPRD II (municipal legislatures)

Procedure:
Single-stage legislative elections held separately from a two-round direct election of the president and vice president

Participants:
48 political parties

Participants:
24 political parties

Districting:
Electoral districts coterminous with administrative regions (province, regency/city)

Districting:
Electoral districts determined by the Election Committee based on criteria that each district be allocated 3 to 12 seats, depending on its population

Mechanism:
Voters choose political party symbol

Mechanism:
Voters choose political party symbol and candidate name or party symbol alone

Other:
No regional representatives chosen directly by the voters
No quota for female candidates

Other:
Voters directly elect DPD (Regional Representative Council) members
Quota of 30 percent for female candidates
 New Means
The new procedures and mechanisms of the 2004 legislative election were meant to facilitate the democratization of Indonesian society. These included listing the candidates by name and number. As in previous elections, candidates were chosen by the political parties, which retained their predominant role. But although candidates were determined by internal party procedures, for the first time the process became somewhat competitive. A number of parties employed a scoring system to select candidates. The scoring was based on the party's criteria, which generally included a candidate's loyalty, position within the party, activities for the party, education, and so forth. A functionary of the political party automatically scored higher than ordinary members.
During the selection process, the Election Committee appealed to the parties to fill a 30 percent quota for women. Unfortunately, almost none was able to comply and only a limited number of women ran for office. This shortfall was due to a number of factors, including misgivings about women's abilities, unfriendly political mechanisms, and internal party dynamics that hamper prospective female candidates.
More significant departures from past elections were evident during the campaign period. Most conspicuous was the range of campaign styles on display. Some campaigns used the candidate's name, photo, and even political promises s/he would fulfill if elected. Other campaigns displayed only the candidate's party symbol. Large-scale campaigning was sporadic and attracted smaller numbers than before, because many followers turned out only in support of a particular candidate. Mass rallies usually ended with dangdut (a kind of popular music) or other traditional performance.
Voter behavior also changed, as people cannily accepted free gifts from a number of campaigns without developing loyalty to any one. Many people even adopted campaign slogans in order to receive more gifts, then did not feel any obligation to vote for the candidate.
As election day neared, logistics posed a critical problem due to the Election Committee's centralized mode of operation. For example, the preparation of ballots by the Election Committee and their distribution by the Regional Election Committees required significant time and care due to their large number and variety. The ballots themselves differed from those of previous elections because in addition to party names and symbols, they included candidate names and the numbers assigned them by the regional committees. As a result, each district's ballot was different, and the central committee took it upon itself to print all the variations. As the scheduled time frame was very short, apprehension rose that when "D-Day" arrived, the ballots would not be ready and fully distributed in each region.
Finally, the 2004 election introduced a new method for casting a vote. Ballots would be considered valid if the voter indicated political party symbol and name of candidate or party symbol alone. If the ballot contained any other markings, it would be invalidated. In the early phases of voter education on the new procedures, the method seemed technically easy to master. However, as election day approached, many people doubted that voters could comply exactly with the stipulations of the Election Committee and it was feared that difficulties and confusion might hinder citizens' right to vote.
D-Day: Between Confusion and Disappointment
On 5 April, voters went to their designated polling stations, each of which was to receive between 100 and 300 voters. With the polling starting at 7 o'clock in the morning, it was hoped that by 13:00, tallying could begin.
As previously predicted, election day logistics were a serious problem in several regions. In remote areas, for example, ballots arrived very late due to transportation difficulties and the time needed to distribute ballots from the Regional Election Committees to each district. And in North Sumatra, the DPRD candidates of several districts were mixed up and as a result, the names printed on the ballots in the following districts were incorrect: Tapanuli Selatan, Deli Serdang, Serdang Bedagai, Tebing Tinggi, Nias, Langkat, and Medan.
Another problem was that many people turned up at polling stations who were not registered to vote. The Voter Registration and Sustainable Population Data Collection system (Pendaftaran Pemilih dan Pendataan Penduduk Berkelanjutan, P4B) was designed specifically to assign an identity number to every citizen, but the canvas had not been complete. P4B data, and hence voter registrations, were incomplete because household members were often not at home when officers visited, and the project lacked the funds and human resources to follow up. Therefore, many potential voters could not take part in the legislative elections.
Voters who were properly registered were given a limited time to study the ballot and cast their votes. In every polling station, however, voters could be heard asking about the names and photos on the ballot. Some voters did not recognize the candidates; others were disappointed to find that the candidate they supported was not running in their district.
In remote areas of the country where voter education efforts were very brief, there was a lot of confusion. Although the mass media had aired educational messages many times and in many forms, those living in remote villages with poor television reception perceived this election to be largely similar to previous ones: they knew there would be procedural changes, but most hadn't heard any details. Thus much of the population relied on explanations given on the day of the election itself by chiefs of the local voting committees (Panitia Pemungutan Suara), the bodies responsible for each polling station. From this it can be concluded that the political change accomplished by the election itself was quite superficial.
As a result of insufficient voter education, many ballots were invalidated. One particular problem was voters who punched their ballots in a folded position. This caused them unintentionally to punch not only the party symbol and candidate of their choice, but other party symbols and candidates as well. Some voters blamed this trouble on the width of the ballot, which made it difficult to fold properly. They were simply seeking an easy way of punching the ballot.
During the tabulation of votes, confusion arose among officers who had not carefully read the manual published by the Election Committee. Some polling stations tabulated votes for individual candidates separately from votes for the political parties, thus causing some parties to suffer and forcing recounts. When tallies differed between the witnesses and the PPS (Voting Committee) and PPK (County Level Committee), the watchdog body (Panwas) recommended to the PPK and Regional Election Committee that the votes be recounted. This procedure was in accordance with law 12/2003.
After the counting was over, the names of candidates who met the required number of votes for their district (the Vote Division Number, Bilangan Pembagi Pemilih, BPP) were announced. Some candidates who ranked first in votes did not reach the BPP; if their party had reached the BPP, however, the candidate was automatically elected. Only first ranked candidates benefited from this system, so competition for first rank within the parties was very strong.
Election Results: Between Hope and Reality
The legislative election of 2004 required a massive effort on the part of Regional Election Committees in 32 provinces and Municipal/Regency Election Committees in 416 municipalities, as established by Presidential Decree No.54/2003. Every municipal-level committee was supported by five officers and a secretariat staffed with lower-level officers. In all, the 2004 election involved committees in some 5119 counties (kecamatan) and 70,833 villages. These committees in turn placed Voting Group Committees (KPPS) in 543,024 polling stations throughout Indonesia.
When this festival of democracy to elect the people's representatives was over, the results for the "big five" political parties were as follows:
 

1999 Legislature

2004 Election

2004 Legislature

Political Party

Seats

%

Votes

%

Seats

%

Golongan Karya (Functional Group)

118

25.76

24,461,104

21.62

128

23.27

PDI-P
(Indonesian Democratic Party-Struggle)

151

32.97

20,710,006

18.31

109

19.82

PPP (United Development Party)

58

12.66

9,226,444

8.16

58

10.55

Partai Demokrat
(Democrat Party)

—

—

8,437,868

7.46

57

10.36

PAN (National
Mandate Party)

34

7.42

7,255,331

6.41

52

9.45
Source: CETRO
The table shows that the Golkar party (Golongan Karya) was the victor of the 2004 legislative election, defeating the 1999 victor, Megawati's PDI-P. Many attributed Golkar's victory to its organizational professionalism, whereas PDI-P was blamed for its inability to represent itself as defending the interests of the ordinary people (wong cilik). In addition, many pointed to conflict within the PDI-P organization that hindered party unity.
The 2004 legislative election marked the emergence of the Democrat Party, led by Susilo Bambang Yudhoyono (commonly called SBY ), who went on to win the presidency. This development, along with the emergence of the Justice Welfare Party (PKS) with 45 seats (8.18 percent), buoyed expectations for the growth of democracy in Indonesia.
At the local level, however, the electoral exercise did not produce the leadership the public was hoping for. Old politicians still dominated the scene, even if they changed their political stripes. Many candidates who contested in 1999 under Party X, contested in 2004 under Party Y. This shifting from one political party to another reflected a pragmatism borne of the desire to defend an individual's political power, rather than a zeal to democratize the political scene in Indonesia.
Sri Nuryanti
Sri Nuryanti is a researcher with LIPI (Lembaga Ilmu Pengetahuan Indonesia)
and was a JSPS (Japan Society for the Promotion of Science) fellow at CSEAS
Kyoto Review of Southeast Asia. Issue 6 (March 2005). Elections and Statesmen