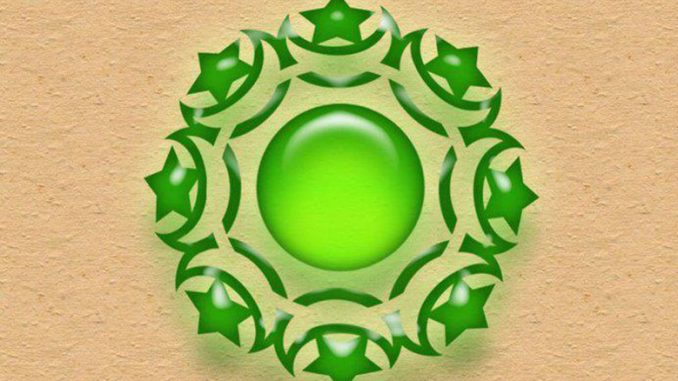 Ideally, the role of government should provide happiness and well-being to their citizens; create rules to protect its citizens from conflicts and to provide law and order. 1 If not, violent conflict between government and citizens may occur. Theoretically, civil society lies outside the state, but it would be difficult to disassociate it with good governance. 2 Nonetheless, a weak state eventuates when the government fails to handle internal violence and when it is incapable to distribute political goods to their citizens. 3 This is the case in Thailand.  
Since 4 January 2004, the Deep South of Thailand has been faced with social unrest. Civil society organizations have grown steadily as a response to the government's inability to protect the lives and property of the people in the Southern border provinces. The Thai government has acted surreptitiously; induced people in the area to spy on each other by using military strategy of "Information Operations" (IO). 4 The use of IO via ghost pages on Facebook focuses on content to spread and incite hatred of the rebel network Barisan Revolusi Nasional Melayu Patani or BRN-Coordinate. Additionally, Ghost pages are utilised to identify persons or organizations (such as scholars or NGOs) who provide support to BRN-Coordinate. Internal Security Operations Command admitted that IO is a part of military operation for more than 10 years. 5 This creates more challenges for civil society and makes it harder for people to engage with the peace process in this area.
During a COVID-19 epidemic crisis, there is a window of opportunity for building peace in the Deep South of Thailand, which the rival parties are the Thai government and BRN. On April 3, 2020, BRN-coordinate issued a statement ending violence in order to open the space for helping people who needed medical assistance with only one condition that the Thai state would not start military operations again.
…BRN will now stop all activities on humanitarian grounds because we realized that the main enemy for all humankind is COVID-19, said the statement attributed to BRN's Central Secretariat. 6
Rukchat Suwan, President of the Buddhist Network for Peace in the Southern Border Province and the former vice president of the Civil Society Council of Southernmost Thailand posted his comments on a personal Facebook on 5 April that everyone is happy to join and the Thai government must not ignore the statement "as long as the Thai government official has not launched any attacks". Since the occurrence of the violence in the Southern provinces of Thailand in 2004, the Buddhist Network for Peace is a group formed by Buddhists who live in the southern border provinces that aim for peace and provide help for any Buddhists; to provide good understanding on how to peacefully live together in the three southern border provinces and to reject any violence as a method of problem solving in these areas. 7
The authoritarian state can also be seen from the incident of 3 extraordinary civil unrest situations in Nong Chik Distric, Pattani province on 30 April 2020. From this incident the BRN released the declaration that the ceasefire during COVID-19 has been ignored by the enemy (Thai state).
"…However, this has been ignored by enemy who threatens the peace of the Pattani people with various activities including house searches, arbitrary arrests, and forced DNA collection. In the meantime, they also hunt and provoke BRN members, but BRN's fighters refuse to start any operations in honor of the declaration." BRN's press statement, 1 May 2020.
One formal civil society in the South of Thailand is named Civil Society Council of Southernmost Thailand or Dewan Masyarakat Madani Selatan Thai. This organization combines 20 civil society groups that are interested in working together to bring about peace.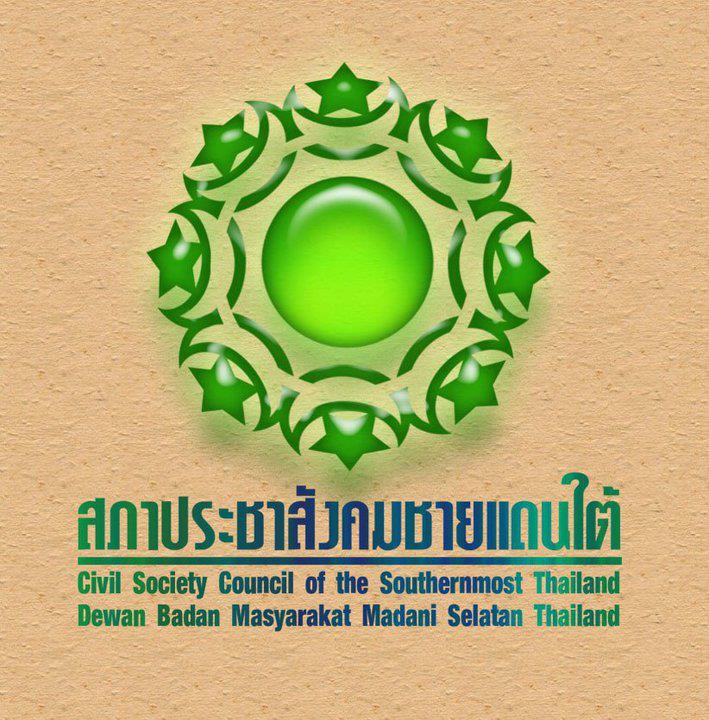 The main objective of the Civil Society Council of the Southernmost Thailand is providing a platform for all public sectors regarding the enhancement of civil society, determining for resolving violent conflict, developing sustainable southern border provinces, communicating and creating public spaces for everyone. The first formal opening date is 20 August 2011 at C.S. hotel, Pattani. I am the co-founder and first female secretary-general of the organization. 8 (see picture 2).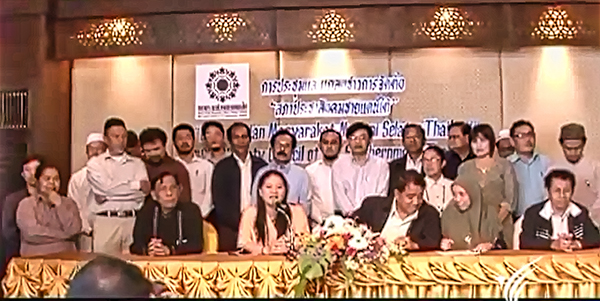 Another difficulty for solving the problem in the Southern Thailand border by civil society council is the refusal to classify this area as a war zone. Tuwaedaniya Meringing, local reporter, said that the two international organizations ICRC and Geneva do monitor unrest situation by using the framework of international humanitarian law or war law, however, the definition of war was found different in practice and theory. 9
At present, the southern region is faced with an epidemic disaster in addition to the man-made disaster. DNA has been secretly collected during a critical situation with COVID-19. On 6 April 202o, DNA of three ordinary men at Songkhla province was collected by officials claiming that they were police officers and paramilitary offices. This covert behaviour creates mistrust in the area. A civil society organization named Cross Cultural Foundation (CRCF Thailand) is a non-profit organization founded in 2002. This group promotes human rights and access to justice. CRCF Thailand stated that this action is unacceptable.
   …Storage of DNA from citizen will be able to do only if that person is accused in a criminal case. With the accused consented and in accordance with the conditions in the Criminal Procedure Code, Section 131/1 which is the power of the investigating officer only to prove the offense of the accused an innocent person who is not a criminal offender has the right to refuse the authorities to store his DNA. 10 
Another situation that shows that shows the authoritarian state is found in the mid of May 2020. The Internal Security Operations Command worked with the Office of The National Broadcasting and Telecommunication Commission (NBTC) by cutting the mobile phone signal, prepaid system, of those who refused to register a new SIM card with a face scan system (2-snap system), citing Nation security reasons. The problem was that telephone interceptions occurred during the COVID-19 crisis and the most vulnerable group are the poor people who use prepaid systems for connecting with their family, learning how to cope with the COVID-19 by seeking advice from medical and public health agencies or reporting to the hospital when the family members are sick or other needs. In addition, cutting the prepaid signal is against human rights. 11
The Deep South Relief and Reconciliation Foundation (DSRR) is an organization that has transformed from the National Reconciliation Commission (NRC) by using the remaining budget from NRC set up the DSRR. DSRR founded on 19 January 2010, is a foundation-based organization, managed by a transparent group of people who have the experience of working in the healing project with people who have been affected by the unrest in the Deep South of Thailand. DSRR members are academics at the Prince of Songkla University (PSU); thus their neutrality is guaranteed. In total, there are more than 30 organizations as demonstrated in the following table. (See table 1).
Table 1: A sample of civil society organizations in the southern Thailand border
No
Name of Organization
President/ Head
Background
Objective(s)
Activities
1
CIVIC WOMEN
Soraya Jamjuree
This group was established in 2010 with support from the Office of Extension and Continuing Education, PSU Pattani Campus. CIVIC WOMEN support women who are affected by unrest situation for peace movement, funding by the EU and OXFAM.
To develop roles of women to participate with peace process for solving unrest situation in the South border.
– Enhanced Food and Livelihoods Security for Vulnerable Men and Women.
– Empowering Women for Democratic and Peace Dialogues through radio and other social media.
2
The Group of Art and Literature Panwongdaern Association
Nawapon Lenin
Since 2007, this group established from a network of the arts. The main activities are using the various arts such as music and paintings sending message for peace in the south border.
To support varieties of arts for peace activities for the public.
– Promoting arts activities for peace movement in the Southern Thailand border by linking verities of art groups.
3
Merpati Group
Usaman Dao
Since 2014, this group includes people from Pattani, Yala and Naratiwat who have been affected by security laws that are applied in the southern provinces of Thailand.
To strengthen members of the group and others by develop peace, human rights and democracy curriculum.
– Learning about peace, human rights and democracy.
4
Youth Network for the Quality of life of Orphans Development
Nurhayatee Molo
Since 2011, youths in the south of Thailand network for supporting orphans who affected by unrest situations. The initiating person is Hamah Morlor.
To build public space for discussion on the orphans' topic who lost their parents during the unrest situation.
– Caring for orphans from unrest situation through religious activities, giving scholarship and encouraging them to continue their education.
5
THE PATANI
Artef Sohgo
Since 2015, THE PATANI is an organization formed by a group of former student activists which currently has various status. The members of this group call themselves THE PATANI.
To create unity for the people of Patani that has a set of political ideologies for Patanians .
– Establishing a dialogue platform between Patani people.
– Organizing a forum about Patani conflict's topics in the ASEAN people forum.
– Establishing a humanitarian day.
– Producing 2 books: "The Listening Project" and Peace History".



6
Prof. Haji Sulong AbdulQadir Tohmeena foundation
Den Tohmeena
Since 1992, Mr. Den Tohmeena, Member of Parliament of Pattani and Deputy Minister of Interior, is the third son of Haji Sulong Tohmeena who intends to register the foundation in the name of his father in order to commemorate the virtues and all good role models to the next generation.
1. To give religious and general educational subjects to the public

2. To provide educational aids for orphans and poor students

3. To support religious activities

4. To build hospital and nursing home for the elderly

5. To initiate for public service and cooperate with other foundations
– In 2015, Prof Haji Sulong AbdulQadir Tohmeena organized 61th anniversary of disappearance of Prof Haji Sulong AbdulQadir Tohmeena and others.
– In 2016, the foundation organized 62th anniversary of the Disappearance of Prof Haji Sulong AbdulQadir Tohmeena with Prof. Krisak Chunhawan (Pol Gen Pao Sriyanon is uncle-in-law of Krisal) in the murder of Prof Haji Sulong AbdulQadir Tohmeena and groups come to apology to the family of the victims.
7
Deep South Journalism School (DSJ)
Saronee Derek
Since December 2010, DSJ has been establishing. DSJ is a division under the Deep South Watch (DSW).
To promote peace process by empowering the next generation of the reporters by focusing on children and youth affected by unrest situation.
DSJ is focusing on 3 subjects which are peace process, judicial process and the movement of civil society organization, promoting safety zone for children, advertising social safety net for children and advocating children and youth is not a soft target.
From the date of the civil society establishment until today, the problem in the southern border provinces remains unresolved. For example, structural conflicts between centralized central government power and the way of life for the local people, drug problems, human rights, justice and corruption are complicating the conflict situation. The negotiations are being monopolized by the security and government agencies and sidestepping international human rights organization who have found it very difficult to operate. The IO Facebook page continues to be utilised. During the COVID-19 pandemic, the IO Facebook content still discredits civil society organizations by saying that civil society organizations did not do anything to help people at all. The government should play an active role to protect its citizen from violence, involving them in decision-making and encouraging community-building and civil society.
Alisa Hasamoh
Alisa Hasamoh is a Lecturer in the Social Development Department, Faculty of Humanities and Social Science, Prince of Songkla University, Thailand