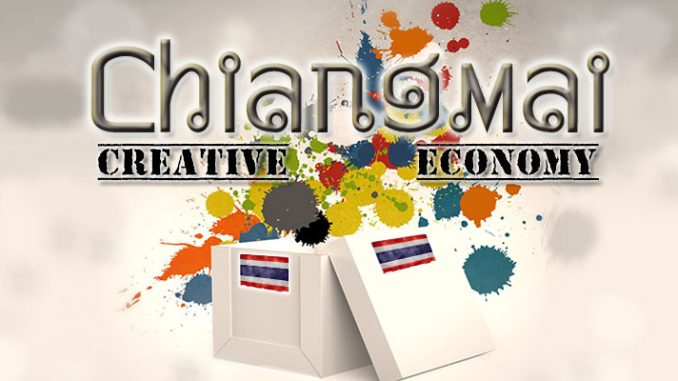 S
ince the early 1990s, Southeast Asian governments have turned their attention to a new kind of economic activity, sometimes dubbed the "creative economy."  At the center of this movement are those innovative industries that are at the crossroad of technology, arts, culture, and business. The creative economy can be highly transformative in terms of generating income, providing jobs and building exports. When combined, this sector is one of the most rapidly growing areas of the world economy. In the past years, the creative economic sector has grown steadily at more than 8%.
1
It is believed that in the next few years, the value of the creative economy is likely to become larger than an industrial sector and in the 21
st
 century, a thriving creative economy would be key for a country's continued 
economic success
.
The creative economy— an immaterial product
Some scholars, particularly those in the Marxist school, label the creative economy as "Cognitive Capitalism", meaning capitalism that concentrates on the manufacture of cultural production, information and news, meanings, languages, and feelings to people. Products of the creative economy are significantly different from the goods of industrial capitalism. While industrial capitalism focuses mainly on assembly line and mass production, the creative economy is more about micro production through which products are varied as knowledge and information is exploited, and goods rely on the creative ideas of those who produce distinguishable products for the market. Moreover, the significant distinction between these two economic systems is that industrial capitalism aims at material production, ostensibly a tangible one, but the creative economy does not target a value of material product, but it brings meaning to what could be called an "immaterial product." [Yann Moulier Boutang, Cognitive Capitalism (Polity, 2014)]
Immateriality is about the narrative, and often the narrative is built around an image. For some products, the value of branded goods for example, its immateriality could be higher than the value of the component materials, sometimes considerably so. We can observe the immaterial production when considered as a part of the creative economic system, such as with arts, advertising, tourism, and personal services, etc. In these cases, the creative economy does not solely discuss a business model or materials per se, but also the human resource, and this might extend to include knowledge, capacity, and the power of creativity. Tourism, for example, requires a good deal of effort in creating a meaning, the shared perception, and constructing the story of a place. The tourism industry, therefore, is a production that usually relies on knowledgeable labor so as to provide a particular meaning to a given place or a lifestyle. A beautiful or historic place is not always economically profitable in itself, but human creativity is a condition that re-shapes a said place in a way that is valuable, meaningful, and profitable – this is how the creative economy works and human labor has become the most important factor in this kind of production.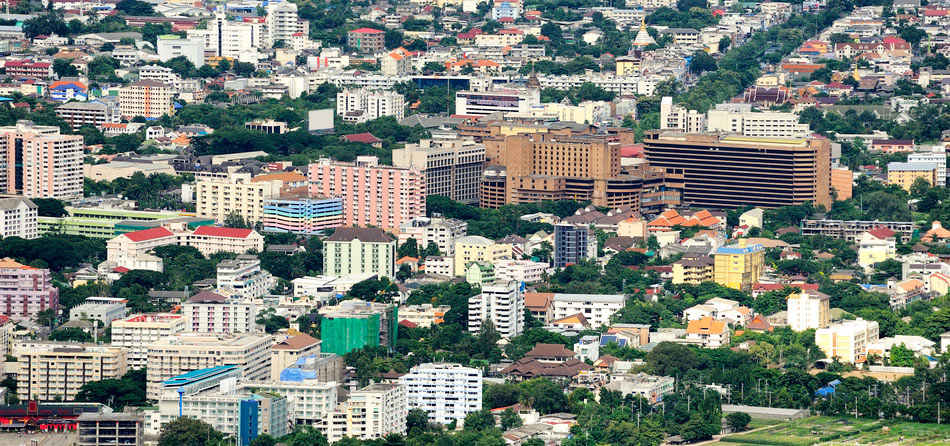 In the past years, as continual expansion of the creative economy has taken place, it became clearer how the process is closely related to urbanity and this serves as the condition that makes growth in the creative economy possible. Urbanization, a population shift from rural to urban areas, influences the advancement of new tastes as society adapts to change. It also generates the money power to consume new products, especially cultural products that proliferate alongside the abundance of new media, such as social media, which is also a crucial condition of the expansion of the creative economy.
Where is Thailand in all this?
When we consider Thailand and its creative economy, it is its southern neighbor, Singapore, that led the field in the region. Eyeing the city-state's success, in 2004, Thaksin Shinawatra's government initiated a system to spur the creative economy by founding the Thailand Creative & Design Center (TCDC), an organization to support and promote knowledge of the creative economy. Later in 2008, the government encouraged entrepreneurs to establish small and medium enterprises, those considered to be prime movers in terms of the creative economy. Subsequently in 2013, the TCDC opened a new branch in the northern city of Chiangmai believing that it held the greatest potential in the development of a creative economy after Bangkok. As the primary policy in these aims, the promotion of cultural products based on the "Thai identity," for example, cultural tourism, traditional Thai medication, Thai massage, Thai food, support for the software, film and music industries, and Thai design, were at the heart of the TCDC efforts.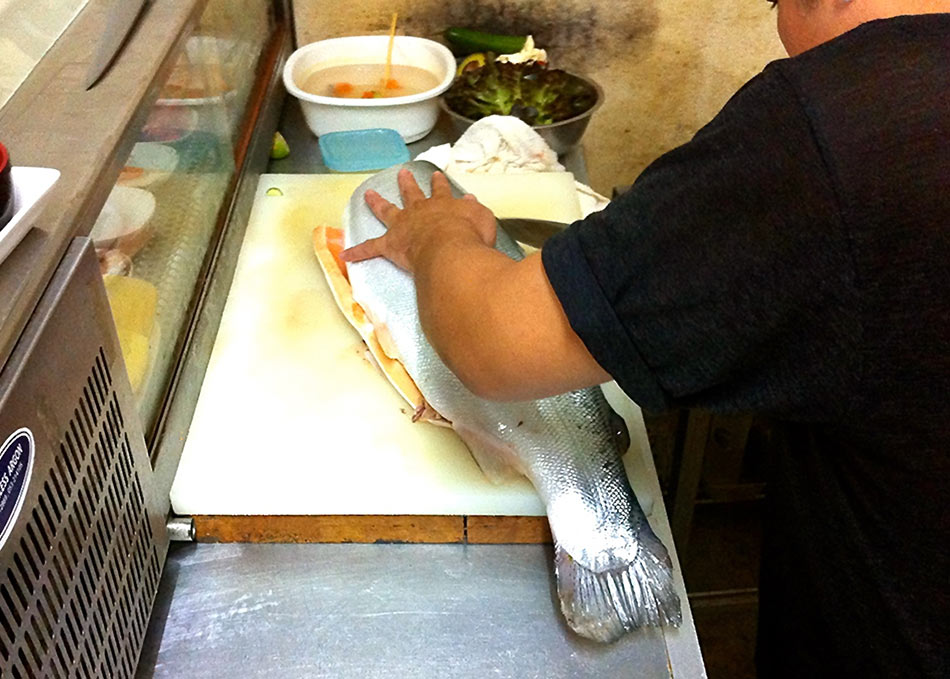 In Thai eyes, Chiangmai, is considered a major city after Bangkok and it is also seen as an exuberant city of art and culture – both traditional and contemporary. The number of cultural industries in Chiangmai has increased rapidly in recent years, either in the form of city tourism or as a provincial tourist hub. Supporting these moves, there has been an emergence of galleries, cafes, handicraft shops, and cultural tourist attractions. There has also been an influx of creative designers from Bangkok and abroad and together they altered Chiangmai and tapped the city's potential in developing its creative economy.
[pullquote]
Chiangmai, an exuberant city of art, it is both traditional and contemporary
[/pullquote]In 2010, prior to the arrival of the TCDC in Chiangmai, a project called "Chiangmai Creative City" was initiated with the goal to develop Chiangmai as a creative city through cooperation between government organizations and private organizations, this was known as "CCM" or "Creative Chiang Mai." Its objective was "to foster creativity and innovation of the economy", based on creative industries, especially centered on digital content, IT, software, working design, and other industries such as handcrafts, and tourism. CCM's scope is broad, but in reality, creativity and innovation are essential in every economic sector. Chiangmai Creative City also supports entrepreneurs and creativity in education and urban development.
2
And Chiangmai?
It is hoped that Chiangmai will continue to develop to become an import Thai hub of creative work. But of course, the city would need support from both state and private institutions for this to continue. Yet the question remains as to how far this movement could go, and how exactly should the government and other institutions support the creativity and cultural industries. In the past, critics have cast aspersions on the effectiveness of the TCDC and CCM, and have asked whether the Thai government has a master plan or overall vision for ongoing support for the creative economy.
As part of the TCDC's main undertakings last year (2014), Chiangmai saw the launch of a book called Made in Chiangmai (2014), and also the "Chiang Mai Design Week 2014." The book presented six creative business models based in Chiangmai, for example, the hospitality industry, food retailing, ceramic goods, property rentals, etc., these are businesses already considered successful, profitable and well-known. In a similar vein, Chiangmai Design Week Festival also set out to trumpet the city's successes, bringing together businessman, designers, entrepreneurs from various sectors, and local people. All this was done to create a buzz that would elevate local industries, and stimulate the circulation of profits from product sales as well as services. 3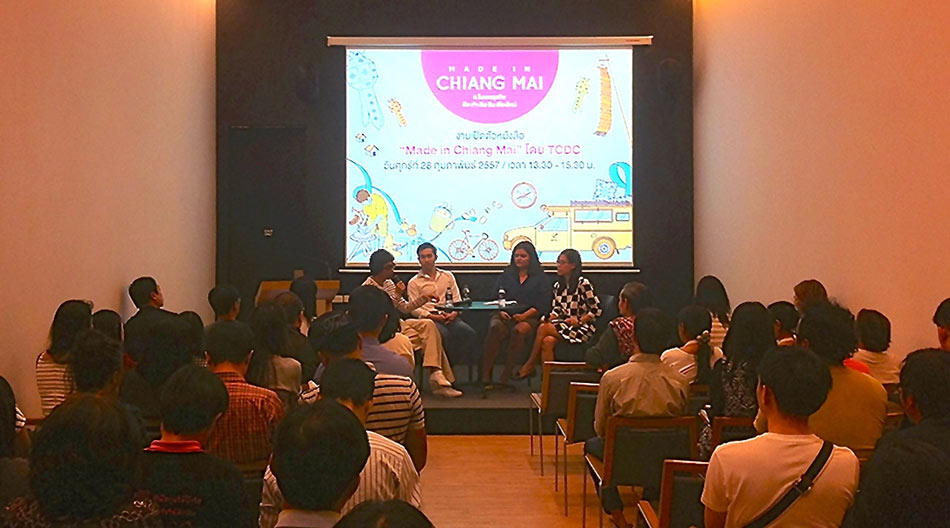 As a creative hub, still much to do in Chiangmai
As has become clear, the government and many visionaries are interested in seeing Chiangmai as a hub for the creative economy. But the identity of Chiangmai as a creative hub is still in flux. Government and public organizations like the TCDC and private organizations like the CCM go to some lengths to highlight Thai identity and stress it's uniqueness as they set their vision of the creative economy as a model in this lens. These institutions also pay more attention to large-scale creative businesses rather than putting systems in place to encourage organic or foundational structures.
[pullquote]
Things are lacking in Chiangmai, a city where the hourly wage is low and start-up capital is scant
[/pullquote]More of a bottom-up approach would offer creative labour a space to evolve as would be the case with something like a public library; or support for social welfare and wage insurance for creative workers who are mostly freelancers; or even start-up loans for small and medium enterprises that are just setting out. These are the things that are most lacking in Chiangmai, a city where the hourly wage is lower than that in Bangkok and start-up capital is scant. Adding to this, the working conditions in the creative economic sector are precarious; most people are temporarily employed or are freelancers, and many jobs are outsourced. It is not uncommon for people to work several jobs just to survive. These are the real issues that need to be addressed if the city is to reach it's potential as a creative hub.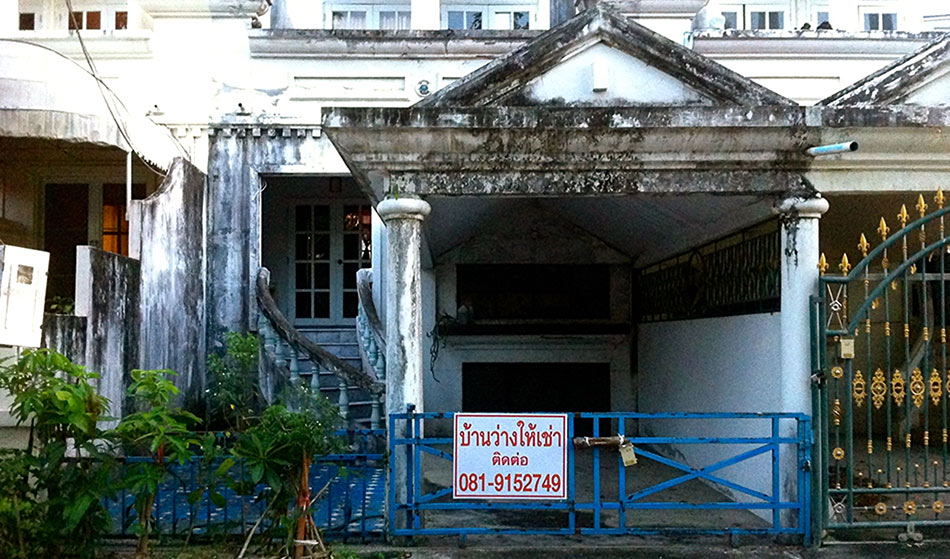 Support needed, but it must be the right sort
As big cities in Southeast Asia move to develop their creative economies, a basic foundation for the support and development of their human resources should be considered as paramount. We may need to accept that not everyone can become entrepreneurs. And it is not a given that a creative individual or organization would always have entrepreneurial skills or ways of thinking. Yet these creative minds should still find the right kind of support, and at the same time, the industrial economy needs to prosper so that jobs could be offered to all.
Supporting the creative economy is not only about creating a business model as a prototype for the low-capital entrepreneur or skillful designer to follow. It is not as simple as that. A top-down development scheme is not the right path for Chiangmai if it is to prosper and reach its full potential in the creative economy.
Dr Kengkij Kitirianglarp
Lecturer at the Department of Sociology and Anthropology
Faculty of Social Science, Chiangmai University, Thailand
Kyoto Review of Southeast Asia (Issue 16),  Young Academics Voice, February 2015