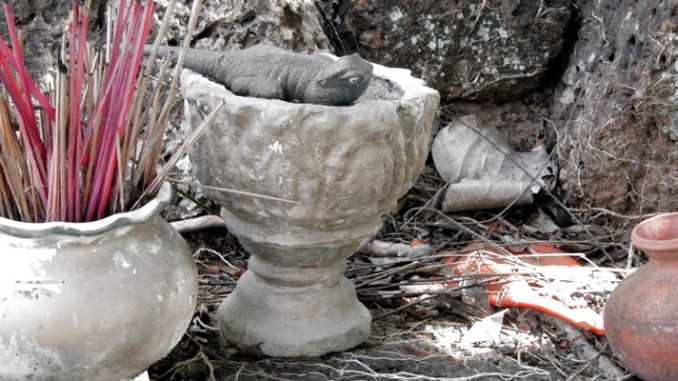 Commenting on sociologist Maurice Halbwach's (1925) influential theoretical essay on memory, Paul Connerton declared that continuing to speak of "collective memory" required recognition that the term subsumed "quite simply facts of communication between individuals." (Connerton 2010: 38). Following Halbwachs' fundamental lessons, I take collective memory here to mean a narrative of past events that is produced by a social group, and always reimagined and retold with regard to the present situation. In this essay, I draw on over nine years of fieldwork in the western Cambodian province of Pursat to describe situations where the individual acts of communication that produce and transmit collective memory are mediated by places. I suggest that the collective memory of Khmer people in Cambodia is inextricably linked to perceptions and practices related to the land. This connection reflects the key importance of the land in many aspects of social life. It follows that collective memories are not always national, but regional.
Land as a key element of the religious system
Land in Cambodia, where 80% of the people still live in the countryside, is central as a livelihood. It is also central to the popular religious system. Earth remains a key element in the Khmer religious system, the most obvious examples being the deep association between protective land spirits (anak tā) and their dwelling places (Ang 2000) and the frequent reference in visual culture to the goddess of the earth Braḥ Dharaṇī (Guthrie 2004). Such beliefs are anchored in a broader ancient Southeast Asian religious idea of the "deification of the energies of the land" (Mus 1933: 374) in which the soil and the land spirits or, after the process of Hinduization, Hindu deities, were fused in a unique entity. This capacity, assigned to the land, of fusing its energy with a deity has been known in Cambodia since the Angkorean cult of the kamrateṅ jagat ta rājya, known in sanscrit as the cult of deva rāja (god king). Although classical interpretations consider that it celebrates the union of the king with Siva (among others, Coedes 1961) other scholars (like Jacques 1985) have seen in it a deity which bears some of the characteristics of aN anak tā and a protecting spirit of the king (Estève 2009).
In Cambodia, as in much of Southeast Asia (Allerton 2013), such beliefs endow particular places with their own agency. This agency mainly manifests itself in Cambodia through the figure of the mcās' dịk mcās' ṭī, or "master of the water and the land", whose chief concern is to protect his/her own property from visitors who do not behave properly and from greedy users of its land who cut trees or pick fruits without asking permission.
The above summary presents the founding principles of the ontology of land in Cambodia as elaborated by such leading anthropologists as Paul Mus and Ang Choulean. My own field work has led me to an appreciation that in Cambodia, earth and time are not perceived as distinct ontologies but are rather combined in a single category. This is made possible by Khmer perceptions 1 of an energy called paramī (pronounced boromey). Cambodian territories (whether considered at national or local levels) are made of networks of places perceived as potent, "full of paramī". Such places range from a particular old monastery, a specific old tree with an impressive shape, or a wooded mount where a broken statue lies. Whatever their form, most such potent places share a link to historic events related to religion or royalty. As in the case of Timor Leste described by Judith Bovensiepen (2009) the land in Cambodia can, so to speak, "absorb" past events which have occurred in a given place.
The characteristics of the land discussed above, enable potent places to function as sites of memory where past events are remembered and commented upon (sometime in a discursive manner but more often on ritual grounds), and thus interact with contemporary social and individual lives. The case study presented here concerns an area protected by an important land guardian spirit (anak tā) named Grandfather Khleang Muang (ghlāṃ mīoeṅ) whose chief shrine is located in Pursat.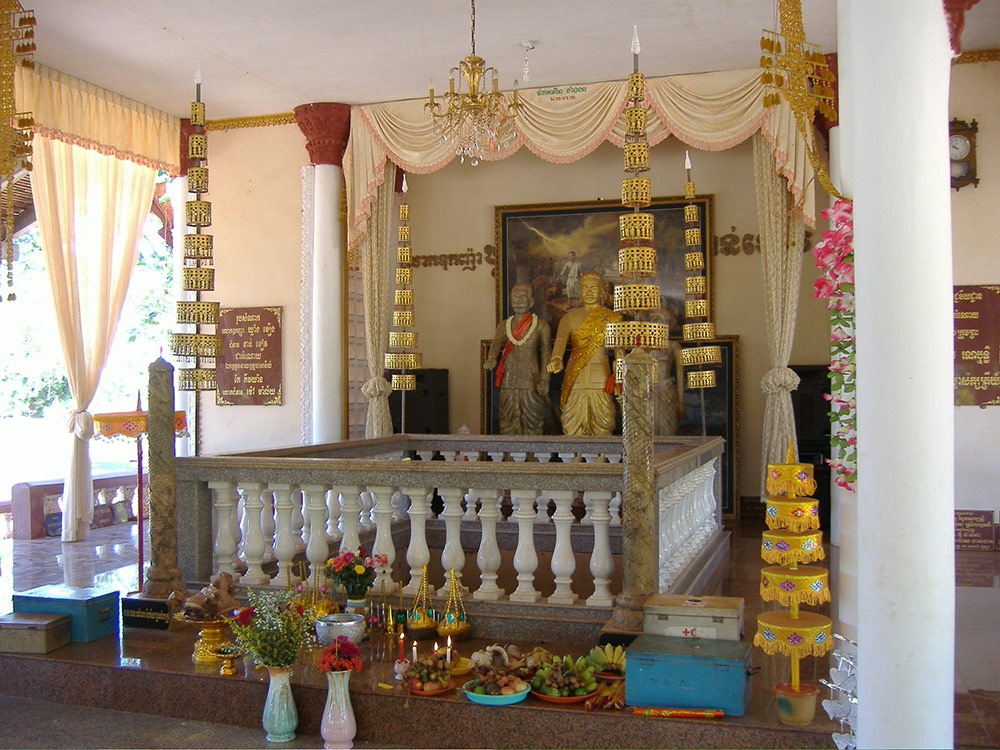 How potent places map history on the soil
Khleang Muang's story – passed on through local legends, toponyms, and 18th century royal chronicles – unfolds at a time when military pressure from Siam has led the Khmer Kings to abandon Angkor and establish new capitals south of Tonle Sap Lake. Khleang Muang, a 16th century war chief faithful to the Khmer King Ang Chan (Aṅg Cand), led the fight against the Siamese army. At the defeat of the Khmer royal forces by the Siamese, Khleang Muang decided to commit suicide in order to travel to the underworld and levy an army of ghosts. His dead soldiers defeated the Siamese who – according to a popular version – caught cholera. After Cambodia gained independence in 1953, and throughout the 1960s under Prince Sihanouk's Sangkum Reastr Niyum government, Khleang Muang was venerated nationwide as a patriotic hero. Today, he remains a powerful land guardian spirit at the village level.
The villagers residing within a 100 square kilometer radius around the main shrine of Khleang Muang are aware of living on a kind of big map whose coordinates are marked by significant events in Khleang Muang's heroic exploits. Most of these places are said to be full of paramī energy. Legends that tell his story are thus literally mapped on the soil in certain places that interact (because of their dual agency and potency) with villagers. These sites serve both as material stimulus for remembering Khleang Muang's time (as it is perceived by the villagers), as a site for constructing and expressing opinions about contemporary events, and as an active witness of personal lives.
The village school is named after Khleang Muang, and from primary school onwards, all villagers know at least a minimal version of the histories of each site. Even the briefest stories differ slightly from one person to another, while some villagers can offer longer versions where elements drawn from varied written sources are enriched with family or individual interpretations. If we take the dusty road past Khleang Muang's shrine towards the forested Cardamom hills, we come to an altar called Braḥ jī at about 400 meters from his shrine. This Buddhicized place 2 is seen by some villagers as the home of Khleang Muang's personal protective spirit (grū). Another kilometer along the same road stands the quiet Monastery of the Merit-filled Bodhi Tree (vatt bodh(i) mān puṇya), in whose vast courtyard lie the ruins of a laterite tower (prāsād).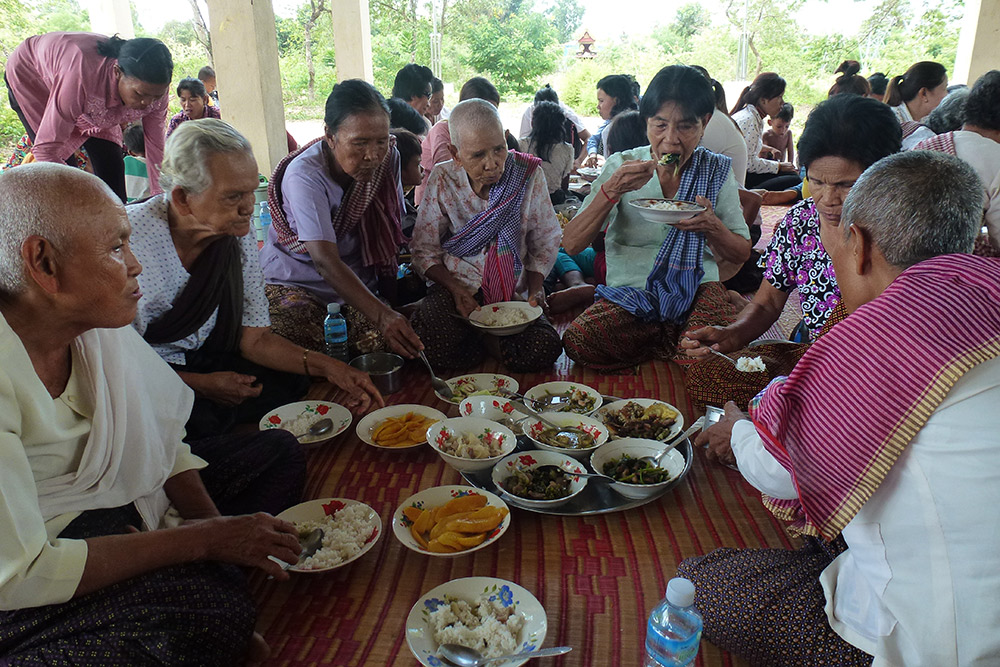 Royal chronicles written in the 18th century maintain that the ashes of King Ang Chan's cousin Ponhea Ong were sheltered here, before the site's transformation into a monastery. Four kilometers further, at the point where the red earth road joins the Pursat River, the King's Monastery (vatt hluoṅ) shelters a round-shaped funeral monument said to contain the ashes of King Ang Chan's child. Other signs revealing the linkage with Khleang Muang include the dual appointment of Mr Ren as an achar (lay ritual specialist) and the ritual officiant of Khleang Muang's shrine, traditionally a hereditary task 3.
Some ten kilometers north from Khleang Muang's shrine towards the Cardamoms forested hills, the Monastery of Pakān (pronounced Bakan) is also a place with an ancient tower (prāsād) made of laterite and considered to be extremely potent. It is said that after coming to the province of Pursat to wage war against the Siamese, King Ang Chan then went south. Before building his capital in Longvek (south of Tonle Sap Lake), the king planted a seed of the Bodhi tree in Udong, then left the seedling behind when he departed for his new residence. Overwhelmed with homesickness for its native land, the young tree floated upstream towards the province of Pursat, washing up in the monastery of Bakan. Today, a huge banyan tree grows on the ancient tower of Pakān Monastery.
These sites are not inert parts of the past. Rather, they comprise a network of places with which villagers interact. Through such interaction, I suggest, remembrance of past figures, narratives and events link villagers and places to one another as new networks of memory are created.
Potent places as interactive witnesses of contemporary social and individual lives
The central node of the imagined and actual geography described above, is Khleang Muang's shrine. Villagers often visit the shrine to ask his spirit for help in their personal life. Common areas where assistance is sought include a new business venture, children's exam results and health problems. Requests for similar assistance made before the large, potent banyan tree of Pakan Monastery, are addressed to the master of the water and the land.
While these appeals to the spirits are firmly tied to place, Khleang Muang's own visitations are not, and his intervention in local people's lives comes through dreams and apparitions. In the village near Khleang Muang's shrine where I live during my fieldwork 4, daily chats with my neighbours regularly involve Khleang Muang. The forty-nine-year-old woman whose family has accommodated me for several years, told me once that when she was expecting her last child in 1998, Khleang Muang had informed her in her dream that she would get pregnant. She dreamed that she was kneeling on the side of a road when Khleang Muang marched past with all his soldiers and servants, and stopped to put a ring in her hands as a symbol of her pregnancy. One of our neighbours, a fifty-three-year old women (in 2015) was advised by a soothsayer that the lack of harmony among her adult children stemmed from her failure to pay respects to a land spirit (anak tā) that had recently taken shelter in her courtyard in the form of a termite mound. This anak tā happened to be one of Khleang Muang's generals. The conflict was resolved after the family members made proper offerings to the land spirit on a regular basis.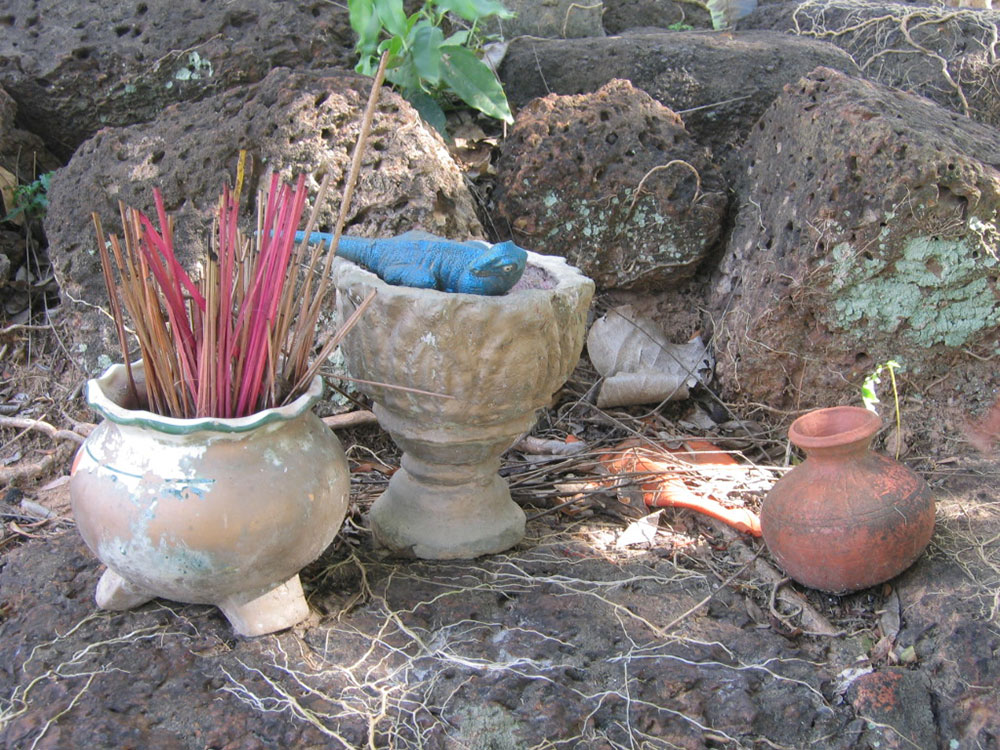 Beyond such individual interventions, the above mentioned potent places also offer fecund sites for response to contemporary events. One day, I witnessed a woman who had travelled ten kilometers from the city of Pursat, begging for justice at the Brāh jī altar, the Buddhicized site of Khleang Muang's personal protective spirit mentioned above. She prayed to the land spirit to help her in a land dispute where a high-ranking local government officer had dispossessed her neighbor of his land.
Finally, this spatial network also enables villagers to engage in a shared remembrance of the destruction of the Pol Pot regime (1975-1979) through the layering of historical time in place. Outside of the individual painful experience which many people are reluctant to talk about – sometimes even to their family – the traces of the totalitarian regime may still be spoken of in the potent places. The canal dug by forced labor in the middle of Khleang Muang's shrine, implementing the Maoist policy of destroying unproductive sacred spaces, is still an active subject of discussion. Many believe that the Khmer Rouge soldiers who dared to cut the trees there, were killed by the very potency of the place. Today, the strength of the resilience of the village community after the Pol Pot regime is discussed through the idiom of the potent places – and often when people are in them.
In potent places which embody memory, "communication between individuals" (Connerton, 2010) can foster the production of a creative memory that is strongly linked to the present and can be used to interpret and or illuminate present events on a personal, familial or extra-familial scale. I use the term "creative memory" to build on both Connerton's notion of memory as a work of dialogue, and on Pierre Nora's expression of a vivid "milieu de mémoire" (Nora 1984).
Anne Yvonne Guillou
(Tenured researcher, CNRS (National Center of Scientific Research), Paris/IRASEC
(Research Institute on Contemporary Southeast Asia), Bangkok
Issue 20, Kyoto Review of Southeast Asia, September 2016
References
Allerton, Catherine (Guest Editor). 2009. Anthropological Forum. Special issue "Spiritual Landscapes of Southeast Asia: Changing Geographies of Religion and Potency", Vol. 19 No.3.
Ang, 2000. Choulean. People and Earth. Phnom-Penh: Reyum, 2000.
Bovensiepen, Judith. 2009. "Spiritual Landscapes of Life and Death in the Central Highlands of East Timor", Anthropological Forum Vol. 19 No.3. 323-338.
Connerton, Paul. 2010 (first publ. 1989). How societies remember. Cambridge: Cambridge University Press.
Coedes, George. 1961. « Les expressions vrah kamraten an et kamraten jagat en vieux khmer », The Adyar Library Bulletin Vol. 25 No.1-4. 447-460.
Estève, Julia. 2009. Étude critique des phénomènes de syncrétisme religieux dans le Cambodge angkorien, Phd Thesis in Religious studies, Paris., Ecole Pratique des Hautes Etudes.
Guthrie, Elisabeth. 2004. A Study of the History and Cult of the Buddhist Earth Deity in mainland Southeast Asia, PHd thesis in Religious studies, Christchurch, New Zeland, University of Canterbury.
Halbwachs, Maurice. 1925. Les cadres sociaux de la mémoire. Paris : Alcan.
Jacques, Claude. 1985. « The kamrateṅ jagat in ancient Cambodia ». in Noboru Karashima (ed), Indus Valley to Mekong Delta : Exploration in Epigraphy. Madras : New Era Publications. 269-286.
Mus, Paul. 1933. « Cultes indiens et indigènes au Champa », Bulletin de l'Ecole Française d'Extrême-Orient Vol. XXXIII No.1. 367-410.
Nora, Pierre. 1984. « Entre mémoire et histoire. La problématique des lieux ». in Pierre Nora (dir.), Les lieux de mémoire. I. La République. Paris : Gallimard. XVII-XLII.