Since the turn of the millennium, comics have seen an unexpected increase in critical and scholarly attention. Apparently, this can be explained by three larger currents: first, the almost unrestrained expansion of the market economy, including consumerism and a new relevance of "popular culture;" second, the processes of globalization, manifesting, for example, in the world-wide proliferation of Japanese manga and anime—less as specific works but as a culture-industrial model which can be adopted by other societies (Saya 2013: 236-237); and third, the rise of the information society which has brought participatory and transformative forms of culture to the fore, suffice it to mention fan art, Cosplay and Social Networking Services. Remarkably enough, comics acquire public acknowledgement precisely at a time when the dissolution of its identity, fundamentally shaped by print media as it has been, sets in.
These currents have facilitated comics-related research in Media Studies, cultural anthropology, sociology and even beyond. The introduction to a collected volume on popular culture in East and Southeast Asia proudly notes in that regard: "one criterion for the legitimacy of a subject in the academic world is when economists and political scientists start to take it seriously" (Otmazgin and Ben-Ari 2013: 3). Such privileging usually implies a preference for macro-analyses over diligently zooming-in on individual cases: Comics are, at large, to serve as mere source material without recognized media-specific properties. 1 Such inclination, however, seems to owe more to the transformation of academic scholarship over the course of the last decade than to the discipline of political science as such. Forty years prior to the above quoted volume, Benedict Anderson employed cartoons and comics in Indonesia for the study of political communication in Indonesia in a today astonishingly sophisticated way. Basic assumptions such as "Form may tell as much as content" (1990: 156), or the observation that entertaining comic strips, as distinct from single-image political cartoons, make it necessary for the researcher "to turn to style and, ultimately context" (ibid: 167), are anything but antiquated; rather they recommend themselves to the utilization of comics especially in contemporary area studies, with Japanese Studies leading the way due to the recent efficacy of manga and congeneric media. Prevailing here is the inclination to allocate manga research to the fields of popular culture and social sciences, while textual analysis, visual scrutiny and other aesthetic considerations stay often discounted as if comics from Japan in particular and Asia in general did not merit those academic efforts which their American and European siblings enjoy under the name of "graphic novels" in their departments of Literary Studies.
In this special issue, however, the articles are not necessarily informed by an area-studies framework. Rather than prioritizing the study of Southeast Asia, they are concerned with comics and its research. This is not to say that they cannot contribute to the study of Southeast Asia, only that such contribution would take its way via Comics Studies, which therefore deserves a short mention here.
[pullquote]
A focus on comics from Southeast Asia, as attempted by this issue, is still quite exceptional
[/pullquote]On a global scale, Comics Studies branches out according to geopolitically and linguistically defined cultures with English, French, and Japanese—or American comics, with
bande dessinée
and manga—occupying the largest share of interest. A focus on comics from Southeast Asia, as attempted by this issue, is still quite exceptional. Usually, research on comics cultures is dominated by the comparison between North America, Western Europe and Japan, occasionally including Korea and also the Chinese-language markets, in particular with respect to manga.
2
Symptomatic of that lopsidedness was the Indonesian-Japanese comics project, sponsored and implemented by the Japan Foundation in 2008 on the occasion of the 50th anniversary of diplomatic relations between the two countries.
3
Although the resulting collection of short stories, edited by Darmawan and Takahashi, was initially planned to be published in both languages, the Japanese edition has never been realized, preventing Japanese manga critics and readers from learning something about non-manga style comics of both Indonesian and Japanese origin.
In this issue, the role of "manga proper" in Southeast Asia does not take center stage either. The focus is rather on comics in their diversity, ranging from autobiographical narratives, graphic diaries and essayistic blog entries to education-oriented productions (related to historical as well as sexual education) and entertaining fiction. Interestingly, the majority of introduced examples does not anymore fall into genres that are categorizable along cultures such as "Japanese," "Indonesian" or "Vietnamese;" instead, they are characterized by various forays into what may be called fusion style. Further it is suggested that the divide between "manga" as commercial, formulaic and fandom-related creations on the one hand, and "alternative comics" as personal and innovative graphic narratives on the other hand, does not necessarily apply to Southeast Asia. Here, the two sides, most often assumed to be mutually exclusive from a Western or Japanese perspective, appear to have a lot in common insofar as cultural and economic status is concerned: Neither allows artists to make a living, at least not solely.
In recent years, younger researchers from Southeast Asia, often Japan-based and engaged in Manga Studies, rivet on comics in their region and strive to introduce them in Japanese in a critical manner. 4 Already in the second half of the 1990s, America-trained cultural anthropologist and Indonesia expert Shiraishi Saya started to draw attention to this field, first with respect to the spread of Japanese manga, but soon afterwards also to indigenous comics cultures. The 2013 publication of her essays in Japanese may help to rediscover these early efforts and to read them in relation to the methodological challenges of today. Likewise noteworthy is veteran comics historian John Lent who has provided space for accounts of cartoons and graphic narratives from all over the world in The International Journal of Comic Art (IJOCA) since 1999. Some of these authors contributed to his most recent volume Southeast Asian Cartoon Art (2014). In addition to critical and scholarly endeavors like these, a significant anthology of comics works shall finally be brought up: Liquid City which has just seen its third volume come out (Liew 2008; Liew and Lim 2010; Liew and Sim 2014). Each volume is composed of more than a dozen short stories by Southeast Asian artists, translated into English, and it did not need an Eisner Award (for the second volume) to remind us of the fact, that any study of comics—whether driven by political-science, sociological or aesthetic interest—is, in the end, dependent on the availability of the works themselves.
Jaqueline Berndt
Kyoto Seika University
Kyoto Review of Southeast Asia. Issue 16 (September 2014) Comics in Southeast Asia: Social and Political Interpretations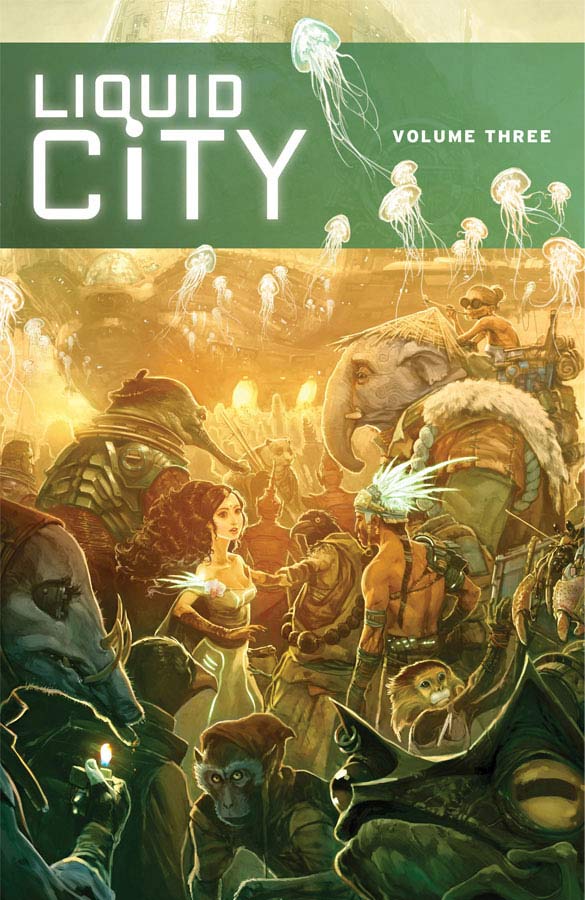 Selected Publications
 Anderson, Benedict R. O'G, 1973, "Cartoons and Monuments: The Evolution of Political Communication under the New Order", id., Language and Power: Exploring Political Cultures in Indonesia, Ithaca, (New York: Cornell University Press, 1990), pp. 152-193.
Berndt, Jaqueline. 2010, ed. Sekai no komikkusu to komikkusu no sekai [Comics Worlds and the World of Comics] (Global Manga Studies, vol. 1), Kyoto: International Manga Research Center, ed., pp. 5-15; [bilingual edition, 2 vols, English and Japanese <http://imrc.jp/lecture/2009/12/comics-in-the-world.html]>
_____2014. "Manga Studies #1: Introduction," Comics Forum (academic website for Comics Studies, Leeds University), 11 May 2014 [3000 words] <http://comicsforum.org/2014/05/11/manga-studies-1-introduction-by-jaqueline-berndt/>
_____2014, ed. Nihon manga to "Nihon": Kaigai no sho komikkusu bunka o shitajiki ni (Kokusai manga kenkyū 4) [Japanese manga and "Japan," seen from the perspective of the respective comics cultures abroad], Kyoto: International Manga Research Center.
Cheng Chua, Karl Ian Uy, and Kristine Michelle Santos, "Firipin komikkusu no 'shi' nitsuite" [The "Death" of Philippine Komiks], in J. Berndt, 2014, pp. 159-180.
Darmawan, Ade and Takahashi Mizuki, eds, Kaldu Ikan: komik Indonesia + Jepang (comics anthology, in Indonesian), (The Japan Foundation, 2008).
Gan, Sheuo Hui, "Manga in Malaysia: An Approach to Its Current Hybridity through the Career of the Shojo Mangaka Kaoru," in Ōgi, Fusami, J. Berndt & Cheng Tju Lim, "Women's Manga beyond Japan: Contemporary Comics as Cultural Crossroads in Asia," IJOCA, vol. 13, no. 2 (Fall 2011), pp. 164–78.
Goethe Institut Jakarta, 2012-2013. City Tales (Comics Blog) <http://blog.goethe.de/CityTales/pages/about_E.html>.
_____2014. City Tales (book edition, only available via Goethe Institut).
Kusno, Abidin, "Master Q, Kung Fu Heroes and the Peranakan Chinese: Asian Pop Cultures in New Order Indonesia," in Otmazgin & Ben-Ari, eds, 2013, pp. 185-206.
Lent, John, ed., 1999, Themes and Issues in Asian Cartooning: Cute, Cheap Mad, and Sexy, Bowling Green: Bowling Green State U Popular P.
_____2001, Illustrating Asia: comics, humor magazines, and picture books, (Honolulu: University of Hawaii).
_____2004. Comic art in Africa, Asia, Australia, and Latin America through 2000: an international bibliography, (Westport CT: Praeger).
_____2011. "Cambodian, Vietnamese Comic Art: A Symposium," IJOCA, vol. 13, no. 1 (spring), pp. 3-108.
_____2014, ed. Southeast Asian Cartoon Art: History, Trends and Problems, (Jefferson, NC: McFarland).
Liew, Sonny, Liquid City Volume 1, (Berkeley: Image Comics, 2008).
Liew, Sonny, and Lim, Cheng Tju, eds, Liquid City Volume 2, (Berkeley: Image Comics, 2010).
Liew, Sonny, and Joyce Sim, Liquid City Volume 3, (Berkeley: Image Comics, 2014).
Lim, Cheng Tju, 2010. "Lest We Forget: The Importance of History in Singapore and Malaysia Comics Studies," in J. Berndt 2010, pp. 187-200.
_____2013. "Singapore Comics," IJOCA, vol. 15, no. 1 (spring), pp. 723-733.
Otmazgin, Nissim, "Popular Culture and Regionalization in East and Southeast Asia," in Otmazgin and Ben-Ari, eds, 2013, pp. 29-51.
Otmazgin, Nissim, and Eyla Ben-Ari, eds, Popular Culture Co-productions and Collaborations in East and Southeast Asia, Kyoto CSEA Series in Asian Studies 7 (Singapore: NUS Press, in association with Kyoto University Press, 2013).
Otmazgin, Nissim, and Eyla Ben-Ari, "Introduction: History and Theory in the Study of Cultural Collaboration," in Otmazgin and Ben-Ari, eds, 2013, pp. 1-25.
Shiraishi, Saya. 1997. "Japan's Soft Power: Doraemon Goes Overseas," Peter Katzenstein & Takashi Shiraishi, eds, Network Power: Japan and Asia, (Cornell University Press), pp. 236-249.
_____2013. "Umi o koeta Doraemon, id. Gurōbaruka shita nippon no manga to anime, Tokyo: Gakujutsu shuppan, pp. 19-27.
_____2013. Gurōbaruka shita nippon no manga to anime, (Tokyo: Gakujutsu shuppan).
Sihombing, Febriani, "Komikku o 'seijika' suru 'eikyō'ron to 'yōshiki'ron—Indoneshia no komikku gensetsu nitsuite" [The 'Politicization' of Comics by 'Influence' and 'Style': On Comics Discourse in Indonesia], in J. Berndt, ed., 2014, pp. 59-84.
ojirakarn, Mashima. 2014. "Tai komikkusu no rekishi: Tayō na manga bunka no aida de keisei sareta hyōgen" [A History of Thai Comics: Formation of Style in-between a Comics Cultures], in J. Berndt, ed., 2014, pp. 85-118.
_____2011 "Why Thai Girls' Manga Are Not 'Shōjo Manga': Japanese Discourse and the Reality of Globalization", in Ōgi, Fusami, J. Berndt & Cheng Tju Lim, "Women's Manga beyond Japan: Contemporary Comics as Cultural Crossroads in Asia," IJOCA, vol. 13, no. 2 (fall 2011), pp. 143–63.
Notes:
Indicative of the trifling with one particular sort of comics, i.e. manga, is, for example, the unawareness of already established titles: 

Hana yori dango is globally not known as "Men are better than flowers" (Otmazgin 2013: 39) but "Boys over flowers;" likewise symptomatic is the wrong spelling of "Crayon Sinchan" [correct: Shinchan] (Kusno 2013, passim). ↩
The long disregarded role of Chinese-language media products for the recent spread of Japanese manga culture has been pointed out by Kusno (2013) and also Shiraishi (2013, pp. 82-83). ↩
Under the general title Kita! Japanese Artists Meet Indonesia, the following comics artists participated: Agung Kurniawan, Beng Rahadian, Dwinita Larasati, Eko Nugroho, Kondoh Akino, Nishijima Daisuke, Oishi Akinori, Shiriagari Kotobuki ↩
See Cheng Chua & Santos (2014), Gan (2011), and especially noteworthy, doctoral candidate Febriani Shihombing (2014), and Mashima Tojirakarn (2011, 2014). ↩