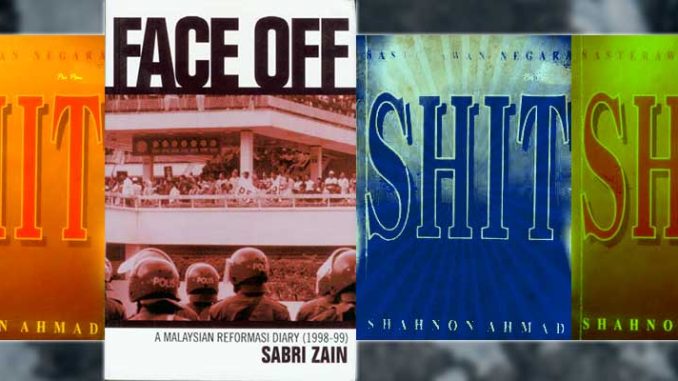 Amir Muhammad
"Perforated Sheets," kolom surat kabar
(Kertas berlubang)
Kuala Lumpur / New Straits Times / 2 September 1998 – 3 February 1999
Sabri Zain
Face Off: A Malaysian Reformasi Diary (1998–99)
(Ganti wajah: Catatan reformasi Malaysia 1998-99)
Singapore / Options Publications / 2000
Shahnon Ahmad
SHIT@Pukimak@PM (Novel Politik Yang Busuk Lagi Membusukkan)
Kubang Krian, Kelantan, Malaysia / Pustaka Reka / 1999.
Pada 1998-99, pemerintahan Malaysia dibawah Perdana Menteri Mahathir Mohamad dikagetkan oleh revolusi budaya yang muncul setelah Mahathir menurunkan wakilnya, Anwar Ibrahim. Media massa yang dikontrol ketat oleh negara membumbui sensasi "alasan" kejatuhan Anwar – dengan tuduhan perzinahan dan sodomi – yang melanggar "kontrak sosial" yang melarang pemimpin untuk mempermalukan pemerintahan. Sebagai tambahan bagi manifestasi politiknya, Reformasi muncul sebagai bentuk gerakan budaya yang menghasilkan tulisan yang mengkritik, menantang dan mempermainkan rejim Mahathir. Reformasi tumbuh menjadi alternatif ekspresi dan perdebatan terhadap sensor negara yang begitu ketat. Esai ini menawarkan bacaan politik dari kolom di surat kabar, catatan harian, dan novel yang sangat populer di lingkaran penentang Mahathir.
Amir Muhammad adalah anak muda brilian, penulis kritik sastra dan film independen yang kolomnya di surat kabar memakai kritik sastra sarkastik tajam untuk menghubungkan antara seni dan kehidupan. Dia menuliskan secara terbuka liputan media partisan, kontrol negara, patriotisme "mengamuk," dan pemburuan terhadap dukun pada masa abad ke tujuh belas. Kolom Amir memparodikan rejim bermasalah, yang sedang membuat lubang terhadap legitimasinya sendiri, walaupun demikian prosa yang ditulisnya masih sopan dan santun.
Sabri Zain menulis dari jalanan, ambil bagian dalam "peristiwa reformasi" dan menyebarkan media "alternatif" melalui Catatan Reformasi yang terhubung secara online ketika banyak orang yang tak percaya lagi terhadap media utama. Catatan hariannya mencatat perubahan wajah orang biasa, tidak bersenjata, pemprotes damai berhadapan dengan polisi anti huru-hara bersama dengan tank airnya. Dia mencatat perubahan cepat pada sikap sosial dan politik yang mengarah kepada solidaritas dan pencarian keadilan.
Sastrawan Nasional Shahnon Ahmad memakai alegori usus dalam tubuh manusia. Baginya usus dalam adalah tempat tubuh menghasilkan "barisan kotoran" yang dipimpin oleh "PM" yang sangat kuat. Administrasi "yang busuk lagi membusukkan" mengarah pada sikap politik yang menjilat dan selalu mengangguk "iya." Ditengah perasaan muak yang terungkapkan lewat penetrasi anal, semen, dan masturbasi mungkin katarsis Sastarawan Nasional memberikan pelepasan budaya terhadap masyarakat yang sangat menekankan aib.
Khoo Boo Teik
Khoo Boo Teik is an Associate Professor in the School of Social Sciences, Universiti Sains Malaysia, and author of Paradoxes of Mahathirism: An Intellectual Biography of Mahathir Mohamad (Kuala Lumpur, Oxford University Press, 1995).
Diterjemahkan oleh Wahyu Prasetyawan
Read the full unabridged article HERE
Kyoto Review of Southeast Asia. Issue 1 (March 2002). Power and Politics